Apricot jelly
A recipe from
cooking-ez.com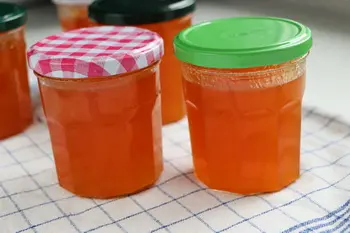 For 5 jars, you will need:
Times:
| Preparation | Resting | Cooking | Start to finish |
| --- | --- | --- | --- |
| 18 min. | 2 hours | 35 min. | 2 hours 53 min. |
Step by step recipe
1: Prepare 1 kg apricots, cut the quarters or small pieces, and pour them into a large saucepan with 3 or 4 tablespoons of 800 g caster sugar.
Mix and leave to stand for 1 or 2 hours (this can be done the day before).
2: Place the pan over medium heat and bring to the boil.
3: Leave to simmer for 5 minutes.
4: Then run through the food mill...
5: ...to remove all skin.
6: Pour the apricot pulp back into the saucepan, weigh to see how much pulp you have, then return to the heat to bring to the boil.
After weighing, make sure you have the right fruit-sugar-gelling agent ratio. If you don't have 800g of apricot pulp at this point in the recipe, recalculate the correct weights with this little calculator:

7: Take 2 tablespoons of sugar and mix with 40 g jam gelling agent in a small bowl.
Set aside.
8: Pour all the remaining sugar into the pan and whisk to combine.
9: Bring back to the boil, and boil for about 3 minutes.
10: Squeeze the ½ lemon juice into the saucepan and whisk to bring out the apricot flavour.
11: Add the sugar+gelling agent mixture, whisking to combine.
12: Bring to the boil one last time, then boil for about 4 minutes.
13: Pour the hot jelly into jars.
14: Close the lids, then turn the jars upside down, to force any air remaining in the jar through the burning jelly.
This sterilizes the jar of jelly and keeps it out of the fridge.
15: Allow to cool before storing in a cupboard or a cool, dry place.
Remarks
You can mix and match this recipe by blending apricots with other seasonal fruits, such as peaches.
---
December 8th 2023.