Granola
A recipe from
cooking-ez.com
20K
4.6
November 10
th
2019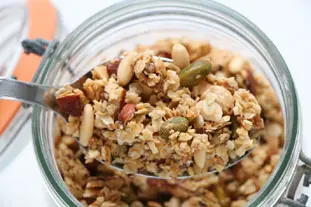 For 500 g, you will need:
1

250 g rolled oats

2

50 g hazelnuts

3

50 g whole almonds

4

50 g walnut kernels

5

50 g pistachios

6

30 g sunflower seeds

7

2 tablespoons oil

8

4 tablespoons maple syrup
Total weight: 570 grams
Times:
| Preparation | Resting | Cooking | Start to finish |
| --- | --- | --- | --- |
| 15 min. | 20 min. | 30 min. | 1 hour 5 min. |
Step by step recipe
1: Preheat the oven to 360°F (180°C).
Put 250 g rolled oats into a mixing bowl.
2: Coarsely chop 50 g hazelnuts.
3: Do the same with 50 g whole almonds and 50 g walnut kernels.
4: Add the walnuts, almonds and hazelnuts to the bowl with 50 g pistachios and 30 g sunflower seeds.
5: Add 2 tablespoons oil and 4 tablespoons maple syrup, then mix thoroughly.
6: Lay a sheet of cooking parchment on a baking sheet and spread the mixture on it in an even layer.
7: Toast in the oven for about 30 minutes.
8: Leave to cool, then break up into small lumps and store in an airtight jar.
9: After taking out a helping, make sure you seal the jar properly again to keep your granola nice and crunchy.
Remarks
The recipe is for guidance, so feel free to adapt it to suit your own taste or whatever dried fruit or cereals you have to hand. But I do recommend keeping to the basic proportion of half rolled oats, half other ingredients.
For the oil, opt for one with a neutal flavour, such as groundnut or sunflower.
Once your granola is cooked and cooled, you can add softer dried fruits that would suffer if cooked: apricot, orange, banana, raisins, etc.
If you don't have maple syrup, you can use honey instead.
---
January 16th 2022.