Pets de nonne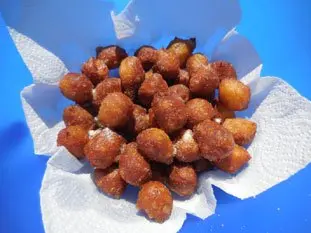 - Add photos
For
100 fritters

, you will need:
Times:
| Preparation | Cooking | Start to finish |
| --- | --- | --- |
| 40 min. | 5 min. | 45 min. |
Step by step recipe:
Prepare 400 g Choux pastry (pâte à choux).
Transfer the dough to a forcing bag. If you don't have one, use a plastic bag and cut off one corner.
Heat the oil 320°F (160°C).

Press on the forcing bag and squeeze out the dough to the size of a walnut, then cut this off with a knife.

When the dough falls into the hot oil it will sink to the bottom at first, then rise back up to the top.

Turn the pets de nonne so that they brown evenly.

Remove them from the oil with a skimmer and place on absorbant paper.

Sprinkle a little sugar on top and they're ready.
Remarks:
It its important to keep the oil temperature relatively low. If it is too hot, the outside browns rapidly, leaving the inside uncooked.
A recipe from cooking-ez.com. View this recipe :
https://cooking-ez.com/desserts/recipe-pets-nonne.html
September 19
th
2018.