Praline rochers
A recipe from
cooking-ez.com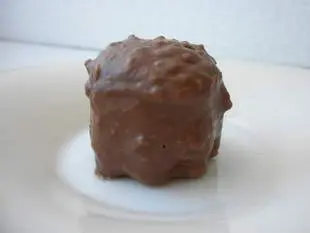 For 15 chocolates rochers, you will need:
0

200 g milk chocolate

1

200 g Praline

2

100 g whole almonds

3

150 g milk chocolate
Total weight: 650 grams
Times:
| Preparation | Resting | Cooking | Start to finish |
| --- | --- | --- | --- |
| 1 hour 3 min. | 2 hours | 10 min. | 3 hours 13 min. |
Step by step recipe
1: Melt 200 g milk chocolate over a bain-marie.
2: Remove from the heat, then add 200 g Praline...
3: ... and mix thoroughly.
4: Divide this mixture between small moulds (preferably silicon as this is makes them easier to turn out). I used what I had to hand: moulds for mini "cannelés".
Put the filled moulds in the fridge to cool for one hour.
5: Meanwhile, torrify the almonds: heat the oven to 150°C (300°F) and leave 100 g whole almonds on a baking sheet in the oven for 15 minutes.
This "torrefaction" dries the almonds, rather than cooking them, and makes them crunchier.
Chop the almonds with a knife, or chop in the blender for 2 or 3 seconds, to keep a fairly coarse texture.
6: Turn out the chocolate pralines.
7: Melt 150 g milk chocolate over a bain-marie in a fairly narrow container, such as a cup, to make coating easier.
When this is completely melted, add the chopped almonds and mix well.
8: Stab a fork into a chocolate praline, then dip in the melted chocolate and almond mixture to coat all over. Don't worry about the "underside".
Note: This is the trickiest part of the recipe; it's not easy to get a thin, even coating, especially when you first try it, but you'll soon get the idea.
9: Then place the rocher upright on a sheet of cooking parchment laid on a baking sheet.
Coat all the rochers like this, then put the baking sheet in the fridge to cool for about an hour until the coating is set.
10: Now your rochers are ready. They will keep better in the fridge, but this is not essential.
Remarks
You can make the rochers softer by increasing the proportion of praline and decreasing the chocolate accordingly. The more praline, the softer they will be.
You can use almond or hazelnut praline, whichever you prefer. Personally, I find that hazelnut praline in the filling goes well with the almond coating.
If you have any of coating mixture left over, shape this into small chocolates. When cooled, these are delicious with a cup of coffee.
---
December 1st 2020.