How long does it take?
Time required for this recipe:
| Preparation | Resting | Cooking | Start to finish |
| --- | --- | --- | --- |
| 25 min. | 10 min. | 20 min. | 55 min. |
At what time:
When will I finish if I start the recipe at ... ?
When should I start for the recipe to be ready at ... ?
---
Step by step recipe
---
Stage 1 - 10 min.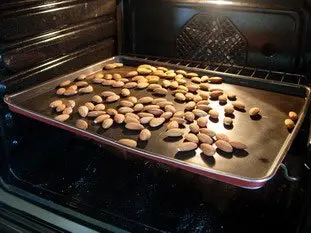 Preheat oven to 150°C (300°F).
Spread out 250 g whole almonds on a
baking sheet
, and put in the oven to
dry roast
for 5 to 10 minutes.
---
Stage 2 - 10 min.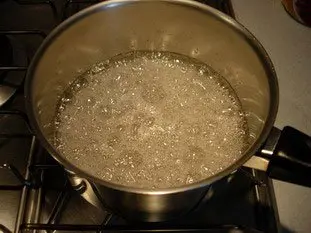 ---
Stage 3 - 1 min.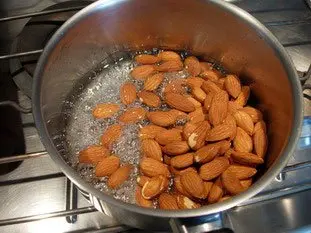 Once this temperature is reached, remove the almonds from the oven and tip striaght into the sugar.
---
Stage 4 - 2 min.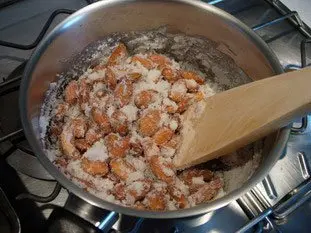 Stir with a
wooden spatula
. After a few seconds the mixture should become grainy.
If this does not happen immediately it is because the sugar has not reached 120°C (250°F) yet. Don't worry, just keep stirring for a while longer until the change occurs.
---
Stage 5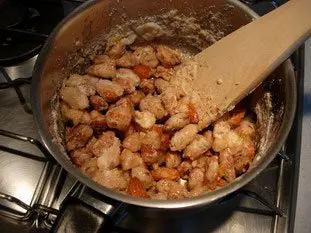 Turn down the heat to medium, and continue stirring the almonds non-stop...
---
Stage 6 - 15 min.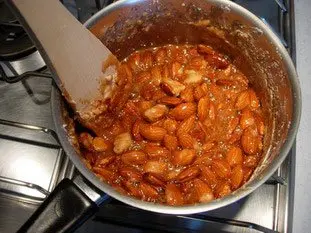 ... until the sugar caramelizes and the almonds are all coated with
dark caramel
.
---
Stage 7 - 10 min.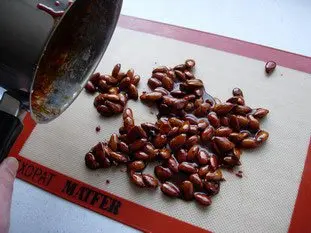 ---
Stage 8 - 3 min.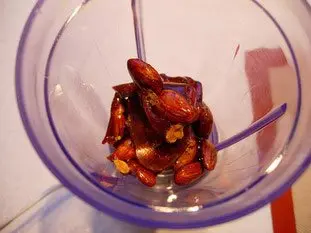 Crush into small pieces and put in the blender.
---
Stage 9 - 1 min.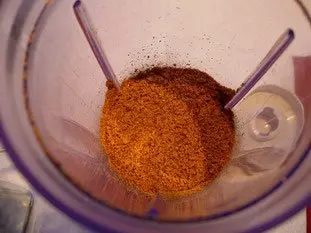 Blend until obtaining a powder (a few seconds), if this is what you require.
---
Stage 10 - 3 min.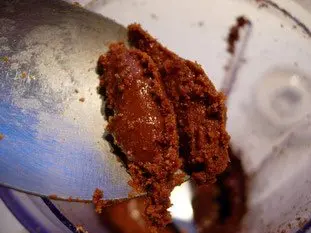 If you need praline paste, continue blending and the mixture will transform itself into a paste.
---
Stage 11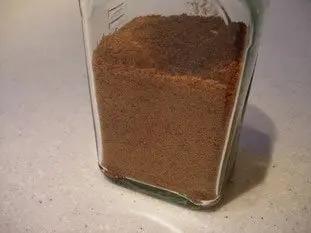 Both kinds of praline should be kept in airtight jars, the paste refrigerated and the powder at room temperature.
Remarks
In this recipe for almond praline, it's important to keep the almonds in their skins to retain their full flavour. It's also possible to make hazelnut praline, but for this the skins should be removed as they add nothing.

Praline is named after Maréchal de Choiseul du Plessis-Praslin, an ambassador under Louis XIII, who asked his cook to invent a sweet for him. The cook came up with the idea of coating almonds in caramel, or "praline". These caramalized nuts, when crushed, give us the praline filling for chocolates.
Keeping:
Several weeks in a closed jar.
Nutritional information
Whole recipe
Energetic value
Proteins
Carbohydrates
Fats
2,585 Kcal or 10,823 Kj
50 gr
293 gr
135 gr
129 %
19 %
28 %
20 %
Per 100 g
Energetic value
Proteins
Carbohydrates
Fats
462 Kcal or 1,934 Kj
9 gr
52 gr
24 gr
23 %
3 %
5 %
4 %
% are calculated relative to a Recommended Dietary Intake or RDI of 2000 k-calories or 8400 k-joules by day for a woman (change to a man).
Some recipes that use this recipe

The Paris-Brest is a famous French patisserie: a ring of choux pastry, scattered with flaked almonds and icing sugar and filled with a praline cream. The name comes from a historic cycle race between Paris and Brest (600 km or 372 miles), as the shape is like a bicycle wheel.
160K
4.6
2 hours 18 min.

Here is how to prepare your own chocolate rochers with a chocolate praline filling covered in milk chocolate and chopped torrified almonds.
148K
5
3 hours 13 min.

The "succès" (success) is a classic of traditional French patisserie, made with two layers of almond meringue filled with praline butter cream. It's very rich and a little old-fashioned these days, but still has many faithful fans.The original recipe comes from the master chef Gaston Lenôtre, and...
298K
3
4.4
4 hours 16 min.
See all recipes that use it
Source
After Gaston Lenôtre.
More recipes?
This recipe uses (among others)
| | |
| --- | --- |
| | Caster sugar: You can get more informations, or check-out other recipes which use it, for example: Kouign-amann brioche, Sweetcrust pastry (pâte sablée), Pancake batter, Lemon and lime cakes, Lime (or lemon) curd, ... All |
| | Whole almonds: You can check-out other recipes which use it, like for example: Frozen Nougat, Carrot-top pesto, Chocolate thins with toasted nuts, Tomato pesto, Crusty pistachio, almond and apricot flan, ... All |
| | Water: You can get more informations, or check-out other recipes which use it, for example: Vietnamese prawns, Minted Melon, Naan, Nachos, Nougat, ... All |
Other recipes you may also like
News list of cooking-ez.com
Sign up to receive the latest recipes (next batch due to be sent on 2021-08-08)
Note: We'll never share your email with anyone else.
Follow this recipe
If you are interested in this recipe, you can "follow" it, by entering your email address here. You will then receive a notification immediately each time the recipe is modified or a new comment is added. Please note that you will need to confirm this following.
Note: We'll never share your email with anyone else.