For
500 g

, you will need:
1

250 g whole almonds

2

250 g caster sugar

3

4 tablespoons water
Total weight: 560 grams
Change for:
Measures:
How long does it take?
Time required
| Preparation | Resting | Cooking | Start to finish |
| --- | --- | --- | --- |
| 25 min. | 10 min. | 20 min. | 55 min. |
Keeping:
Several weeks in a closed jar.
At what time?
When will I finish if I start the recipe at a certain time?
When should I start for the recipe to be ready at a certain time?
Work this out...
---
Step by step recipe
---
Stage 1 - 10 min.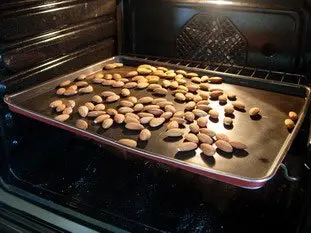 Preheat oven to 150°C (300°F).
Spread out 250 g whole almonds on a
baking sheet
, and put in the oven to
dry roast
for 5 to 10 minutes.
---
Stage 2 - 10 min.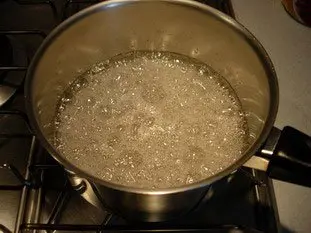 ---
Stage 3 - 1 min.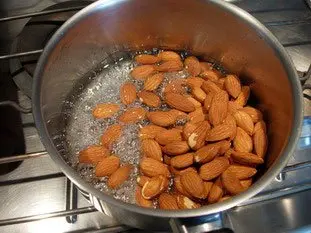 Once this temperature is reached, remove the almonds from the oven and tip striaght into the sugar.
---
Stage 4 - 2 min.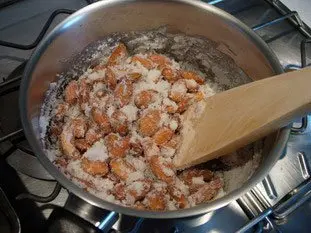 Stir with a
wooden spatula
. After a few seconds the mixture should become grainy.
If this does not happen immediately it is because the sugar has not reached 120°C (250°F) yet. Don't worry, just keep stirring for a while longer until the change occurs.
---
Stage 5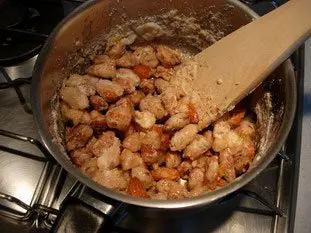 Turn down the heat to medium, and continue stirring the almonds non-stop...
---
Stage 6 - 15 min.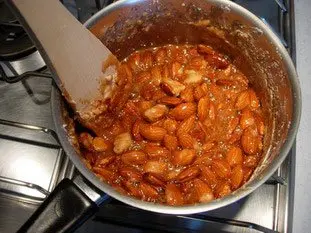 ... until the sugar caramelizes and the almonds are all coated with
dark caramel
.
---
Stage 7 - 10 min.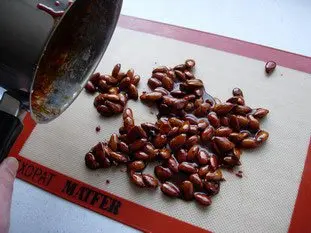 ---
Stage 8 - 3 min.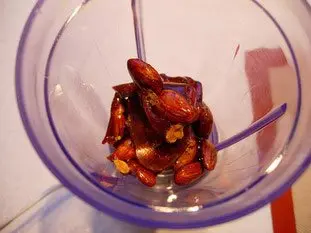 Crush into small pieces and put in the blender.
---
Stage 9 - 1 min.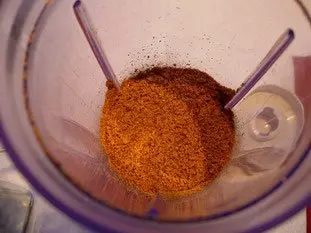 Blend until obtaining a powder (a few seconds), if this is what you require.
---
Stage 10 - 3 min.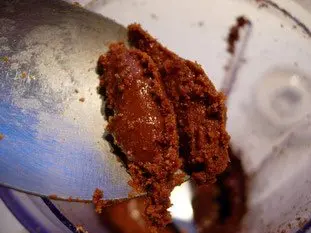 If you need praline paste, continue blending and the mixture will transform itself into a paste.
---
Stage 11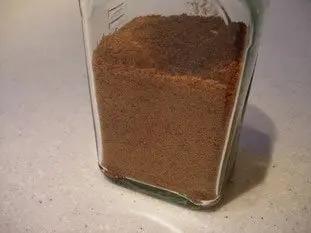 Both kinds of praline should be kept in airtight jars, the paste refrigerated and the powder at room temperature.
Remarks
In this recipe for almond praline, it's important to keep the almonds in their skins to retain their full flavour. It's also possible to make hazelnut praline, but for this the skins should be removed as they add nothing.

Praline is named after Maréchal de Choiseul du Plessis-Praslin, an ambassador under Louis XIII, who asked his cook to invent a sweet for him. The cook came up with the idea of coating almonds in caramel, or "praline". These caramalized nuts, when crushed, give us the praline filling for chocolates.
Nutritional information
% are calculated relative to a Recommended Dietary Intake or RDI of 2000 k-calories or 8400 k-joules by day for a woman (change to a man).
Recipes which use this 3
Source
After Gaston Lenôtre.
More recipes?
This recipe uses (among others)
| | |
| --- | --- |
| | Whole almonds: You can check-out other recipes which use it, like for example: Red cabage salad with toasted almonds, Chinese style chicken, Kugelhof for Nanou, Beetroot and fried chicken salad, Frozen Nougat, ... All |
| | Caster sugar: You can get more informations, or check-out other recipes which use it, for example: Pistachio shortbread biscuits, Strawberries in a thyme and lemon-flavoured red wine reduction, Rum babas, Vanilla ice cream, Tiramisu, ... All |
| | Water: You can get more informations, or check-out other recipes which use it, for example: Mustard baps, Leek and potato soup, Chicken nems, Stewed plums, Franche-Comté sticks, ... All |
News list of cooking-ez.com
Sign up to receive the latest recipes (next batch due to be sent on 2019-07-21)
Note: We'll never share your email with anyone else.
Follow this recipe
If you are interested in this recipe, you can "follow" it, by entering your email address here. You will then receive a notification immediately each time the recipe is modified or a new comment is added. Please note that you will need to confirm this following.

Note: We'll never share your email with anyone else.