"Day After Pork Belly" Soup
A recipe from
cooking-ez.com
37K
4.1
November 15
th
2015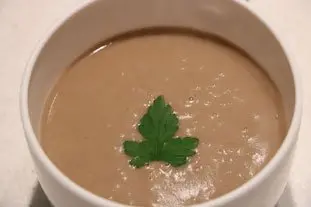 For 4 people, you will need:
Times:
Step by step recipe
1: Peel 500 g potatoes, rinse and cut into chunks.
2: Bring 750 ml pork-belly stock to the boil...
3: ...then add the potatoes.
Cook until the potatoes are soft.
4: Blend until smooth.
5: Add 200 ml cream and blend for a few more seconds to mix in.
Check the seasoning.
6: Serve garnished with a little parsley and, if you like, fried croutons.
Remarks
This recipe that follows on from another (pork belly with lentils) is very approximate, so do adapt it to suit what leftovers you have.
If you have a little pork belly left, you can add small dice to the soup.
Be careful when seasoning - the stock is often quite salty already, so do check before adding anything.
---
August 18th 2022.