Röstis
A recipe from
cooking-ez.com
251K
4.2
February 21
th
2011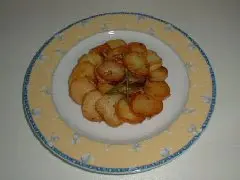 For 4 people, you will need:
Times:
| Preparation | Cooking | Start to finish |
| --- | --- | --- |
| 22 min. | 18 min. | 40 min. |
Step by step recipe
1: Chop 2 shallots.
2: Melt 2 tablespoons goose fat in a frying pan.
3: Put in 1 kg 500 g cooked potatoes sliced, in a single layer.
4: After 5 minutes turn over potato slices, and cook until golden brown.
Don't salt at this stage, otherwise your potatoes will stick.
5: Put onto absorbant paper to remove the excess fat.
Repeat operation until all potatoes are cooked.
6: Clean the frying pan, melt the remaining fat, add chopped shallots, salt and pepper, and cook 1 or 2 minutes.
7: Add 100 g small pieces of bacon.
8: And cook for a further 3 or 4 minutes.
Note: Everything so far can be prepared in advance (the day before or so). But what follows must be done at the last minute for a better and crusty result.
9: Put cooked potato slices back in the frying pan.
10: Mix well and reheat on medium heat.
11: Taste and adjust seasoning.
12: It's ready !
Serve piping hot, alone or with a good green salad.
Remarks
In the swiss version, potatotes are grated rather than sliced (thanks to Nicole for this detail).
---
December 8th 2023.