Four quarters (adding fruit)
A recipe from
cooking-ez.com
157K
4.4
February 21
th
2011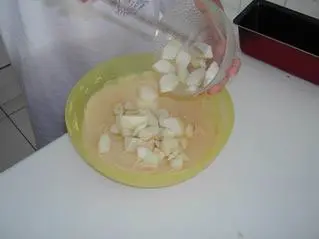 For 1 add, you will need:
1

3 apples
Total weight: 540 grams
Times:
Step by step recipe
1: Peel fruit (in this photo it's apples), cut in quarters and remove core.
2: Cut each quarter into small pieces.
3: And add it to the batter.
4: Mix well.
You can now pour batter into the mould or tin as for the usual four quarters.
---
July 4th 2022.