Mixed tomato salad
A recipe from
cooking-ez.com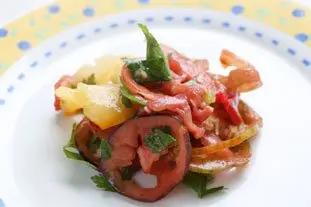 For 4 people, you will need:
Times:
Step by step recipe
1: Choose 800 g tomato to include plenty of varieties with different colours, like in this photo.
The more varied they are, the better - it's the mix of varieties that really makes this salad.
2: Rinse the tomatoes, then and cut off and discard the stalk and the hard bit just underneath.
3: Slice the tomatoes fairly thinly (the ideal tool for this is a mandolin).
Sprinkle the tomatoes with table salt and leave for 30 minutes to 1 hour.
4: Drain the tomatoes thoroughly, as the salt will have drawn out some of their juice, then put them in a salad bowl.
Add 30 g shallot (finely chopped), herbs of your choice and 5 tablespoons French dressing (vinaigrette).
Mix well.
5: If you will not be serving the salad right away, do not refrigerate it, just cover and leave at room temperature.
Remarks
Please don't store your tomatoes in the fridge - they really don't like it and it spoils the flavour. If they are already in there, take them out the day before and leave them to come to room temperature.
---
June 26th 2019.