Saucipain
A recipe from
cooking-ez.com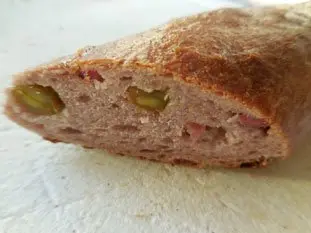 For 13 saucipans, you will need:
1

500 g dry sausage or salami

2

120 g pistachios

3

1 kg flour

4

200 g leaven

5

30 g yeast

6

9 g salt

7

650 ml red wine
Total weight: 2,509 grams
Times:
| Preparation | Resting | Cooking | Start to finish |
| --- | --- | --- | --- |
| 31 min. | 3 hours 20 min. | 35 min. | 4 hours 26 min. |
Step by step recipe
1: Remove the skin from 500 g dry sausage or salami and dice small.
2: Spread 120 g pistachios on a baking sheet and toast for 15 minutes in the oven at 300°F (150°C).
4: Start kneading on minimum speed, then pour in 650 ml red wine.
Knead for 3 minutes like this, then on speed "1" for a further 8 minutes. When the dough temperature reaches 75°F (24°C, it is ready).
Note: For the best way to knead, see: A few tips for effective kneading at home.
5: Once the dough is made, go back to minimum speed and tip in the diced sausage and pistachios.
Gather the dough (you will notice it is a strange pinky-mauve colour) into a ball and put into a clean bowl. Cover with a sheet of plastic and leave for 1 hour.
6: After this time, divide the dough into 200 g pieces. Roll these into balls and leave covered with a sheet of plastic to rest for 20 minutes.
7: After this time, press the balls flat, then shape them into thin baguettes or "ficelles", as shown in this short video.
Leave the saucipains covered with a sheet of plastic to rest for 2 hours.
8: Preheat the oven to 460°F (240°C) and bake the saucipains for about 20 minutes until nicely browned.
Note: As when baking any bread, you should ensure that the oven is filled with steam for the first 15 minutes of baking. This page shows you how; it really is the secret of golden-brown, crusty loaves..
Remarks
If you don't have salami, use any cooked sausage you like.
---
September 28th 2023.