Crunchy little pieces of fish
A recipe from
cooking-ez.com
224K
4.6
February 21
th
2011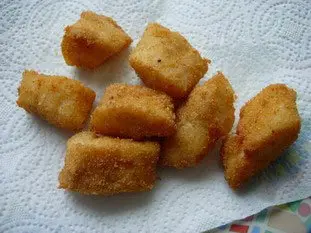 For 4 people, you will need:
1

300 g fish fillet

2

1 egg

3

3 tablespoons breadcrumbs

4

1 teaspoon flour

5

salt

6

pepper
Total weight: 403 grams
Times:
| Preparation | Cooking | Start to finish |
| --- | --- | --- |
| 46 min. | 3 min. | 49 min. |
Step by step recipe
1: Cut 300 g fish fillet into pieces about the size of your thumb.
Salt and pepper both sides.
2: In a bowl, mix 3 tablespoons breadcrumbs with 1 teaspoon flour.
3: In another bowl, beat 1 egg with a fork, until yolk and white are totally mixed.
4: Dip fish pieces in beaten egg, remove with a fork to drain them...
5: ...and roll in breadcrumbs.
Advice: use one fork for the egg bowl, and another for the breadcrumbs bowl, otherwise you will get your fork covered with a sticky mess of egg and crumbs.
6: Put in the deep fryer, keeping the pieces apart.
7: Fry for 2 or 3 minutes...
8: ...until they are nicely golden.
Drain on absorbant paper, and salt immediately.
Continue like this for all the fish pieces.
Remarks
The variety of fish does not really matter, whatever you prefere, but it should be fairly thick.
You can dip the fish twice in egg and breadcrumbs if you like a thicker, crunchier crust.
Another possibility: deep a second time in egg and then in seeds like sesame, linseed, poppyseed, etc.
---
November 27th 2021.