Fillets of sole meunière
A recipe from
cooking-ez.com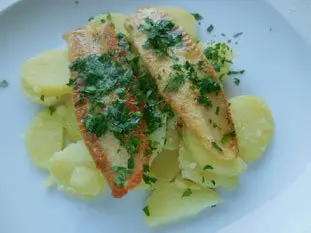 For 4 people, you will need:
Times:
| Preparation | Cooking | Start to finish |
| --- | --- | --- |
| 15 min. | 9 min. | 24 min. |
Step by step recipe
1: Allow 1 or 2 sole fillets per person, depending on size.
Clean the fillets and carefully remove any remaining bones.
2: Salt and pepper the fish on both sides, then dip in the flour, coating both sides equally.
Gently shake each fillet to remove any excess flour.
Heat the plates.
3: Melt 50 g Clarified butter in a large frying pan over medium heat. When good and hot, add the sole fillets.
4: Cook for 2 minutes on each side.
5: Once nicely browned, transfer the cooked fillets onto a hot plate and cover with aluminium foil to keep them hot.
6: Clean the frying pan. It is important to remove any grains of flour which might otherwise burn and spoil the flavour of the sauce.
Put the pan back onto medium heat and melt 50 g Clarified butter.
7: When the butter is hot, add salt and pepper, then add 2 tablespoons lemon juice. Be careful as this will spit a lot at first.
Leave to cook for 1 minute, stirring with a wooden spatula.
8: Arrange any vegetable accompaniment on the plates, place a sole fillet on top, sprinkle with chopped parsley and pour the butter sauce over.
Serve immediately.
Remarks
Sole meunière is traditionally served with steamed potatoes, but rice or vegetables will go well with it, too.
If you do not have clarified butter, just use normal butter, but be careful not to let it burn.
---
September 21th 2020.