Pan-fried scallops and chanterelles with Noilly Prat sauce
A recipe from
cooking-ez.com
211K
4.5
November 28
th
2010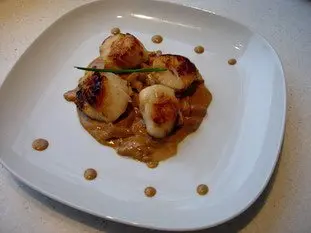 For 4 people, you will need:
Times:
| Preparation | Cooking | Start to finish |
| --- | --- | --- |
| 49 min. | 17 min. | 1 hour 6 min. |
Step by step recipe
1: Wash 16 scallops, dry thoroughly and put on a plate on absorbant paper, then cover with a second sheet.
Leave to wait in the fridge.
2: Prepare 200 g chanterelles: cut off the stalks if they are dirty, then brush the mushrooms quickly under a gentle stream of cold water.
Drain.
Important: do not soak the chanterelles or their delicate flavour will be lost in the water.
3: Cut any large mushrooms into four lengthways and leave to wait on a cloth or absorbant paper.
4: Pour 2 tablespoons olive oil into a pan on high heat. As soon as the oil is smoking, so very hot, add the mushrooms and cook without salt, stirring continuously for 2 minutes.
Please note: we don't add salt at this point as the mushrooms would give off water and go soft.
5: Tip the mushrooms into a strainer to drain them, and only salt them now.
6: Using the same pan, still on high heat, pour in 2 tablespoons olive oil and when really hot add the scallops.
Be careful, they will spit, so put a lid over 3/4 of the pan if you wish.
7: Salt and pepper before turning the scallops over once they are a nice golden brown. Allow 3 or 4 minutes on each side.
8: Remove the scallops from the pan and place on a wire rack. Cover with aluminium foil to keep them hot while you make the sauce.
9: Heat the plates.
Put the pan back on high heat and pour in 4 tablespoons Noilly Prat, deglaze thoroughly with a wooden spoon or wooden spatula, then add 200 ml liquid cream.
10: Stir thoroughly and bring to the boil. As soon as it boils, add 1 teaspoon French mustard and leave to thicken (just a couple of minutes).
11: Turn down the heat and add the mushrooms. Stir to mix well and check seasoning.
12: Put a layer of mushrooms on each plate and lay 4 scallops per person on top.
Garnish with chives and serve immediately.
Remarks
If you don't have any chanterelles use other wild mushrooms or cultivated ones as a last resort.
The same goes for the Noilly. You can use another vermouth like Martini or Cinzano instead.
---
March 23th 2023.