Nougatine
A recipe from
cooking-ez.com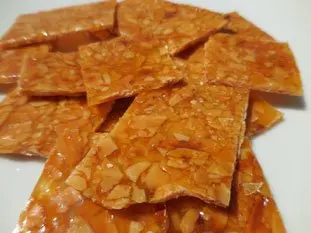 For 225 g, you will need:
1

75 g flakeds almonds

2

150 g caster sugar
Total weight: 225 grams
Times:
| Preparation | Cooking | Start to finish |
| --- | --- | --- |
| 15 min. | 17 min. | 32 min. |
Step by step recipe
1
Preheat the oven to 150°C (300°F).

Prepare your work surface: Place a metal baking tray on it (this will retain the heat of the nougatine for longer.

Lay a sheet of cooking parchment on top and have a second sheet within reach.

Have your rolling pin ready.
2
Spread 75 g flakeds almonds out on a baking sheet and toast in the oven for about 6-7 minutes. They should only just be starting to colour and not fully cooked.
3
Meanwhile, tip 150 g caster sugar into a saucepan (preferably non-stick) and put on low to medium heat.

Do not add any water. This caramel will be made "dry" so that your nougatine will stay crunchy.
4
Stir from time to time with a wooden spatula so that the sugar cooks evenly.

You are aiming to make a light caramel, so remove from the heat as soon as the caramel is a golden blond colour.
5
Now you will need to work quickly, without interruption.

Tip all the toasted almonds, as hot as possible, into the caramel (ideally, try to synchronise the cooking of both to have them ready at the same time).
6
Mix well.
7
Turn the mixture out onto the cooking parchment.
8
Cover with the second sheet and roll out immediately with the rolling pin as thinly as possible.
9
If you want your nougatine in special shapes (strips, circles, figures, etc.) score these immediately, while the nougatine is still slightly soft. Here strips are being cut with a knife.
10
Once fully cooled, you can separate the shapes by breaking the nougatine gently where you have scored it.
Remarks
You can use
walnuts
, hazelnuts or pistachios instead of almonds, or whatever mixture you prefer.
Give yourself a longer working time by putting the baking sheet you will use for rolling in the oven at the same time as the almonds. It will then be hot and the nougatine will stay workable for longer.
---
December 6th 2023.