Truffade
A recipe from
cooking-ez.com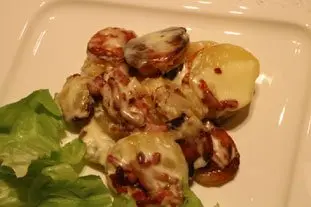 For 6 people, you will need:
Times:
| Preparation | Cooking | Start to finish |
| --- | --- | --- |
| 13 min. | 57 min. | 1 hour 10 min. |
Step by step recipe
1
Slice 250 g Saint-nectaire and remove the rind.

Set aside.
2
Tip 200 g small pieces of bacon (lardons) into a frying pan on high heat and fry until lightly browned.

At the end of cooking, add 1 tablespoon vinegar and stir in well.
3
Put 1 kg 500 g potatoes into a large saucepan, cover with cold water and bring to the boil.

Cook until just tender.

Drain and leave to cool.
4
Peel the potatoes and slice fairly thickly.
5
Melt 1 tablespoon lard in a large non-stick pan on high heat.

Add the potatoes and leave to brown without stirring (or they will break up).

You can pepper lightly, but do not add any salt, as the bacon and cheese are already salty enough.
6
When the potatoes are browned underneath, turn them carefully and scatter the fried bacon bits over.
7
Lay the sliced Saint-Nectaire on top, turn down the heat and cover the pan.
8
Leave the cheese to melt for about 10 minutes, then remove the lid and turn off the heat.
9
Serve farmhouse-style in the centre of the table and let everyone help themselves, or plated up like in the photo.

If possible, serve with a good green salad on the side.
Remarks
If you don't have lard, you can use goose fat instead or, at a pinch, a little oil.
If you want to keep the rind on the Saint-Nectaire, do rinse it thoroughly in hot water to avoid any possible unpleasant bitter taste.
---
December 6th 2023.