Truffade
---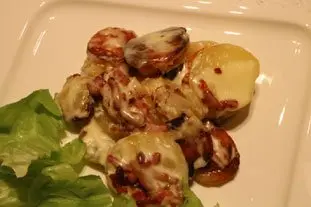 Truffade is a traditional dish from France's Auvergne region. It is made with potatoes and local cheese. Truffade originated in the mountains and is a proper winter dish, quite rich and delicious.

This recipe, like with all traditional food, comes in many versions: different cheeses, ways to cook the potatoes, with or without bacon, onions or garlic.
This is my version, using pre-cooked potatoes, lardons and that delicious cheese from the Auvergne, Saint-Nectaire.

Despite the name, truffade has nothing whatsoever to do with truffles. The name comes from "trufa", an Auvergnat dialect word for potato.
Last modified on: January 22th 2017
Keywords for this recipe:
Truffade
Auvergne region
Regional recipe
Potatoes
Cheese
Bacon