Dried apricots
A recipe from
cooking-ez.com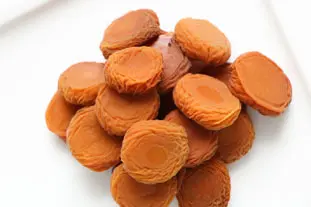 For 250 g, you will need:
1

500 g apricots

2

1 vanilla pod (optional)
Total weight: 500 grams
Times:
| Preparation | Cooking | Start to finish |
| --- | --- | --- |
| 6 min. | 6 hours | 6 hours 6 min. |
Step by step recipe
1
Prepare 500 g apricots, then place on a baking sheet.
2
You can put a few grains of vanilla in the centre of each half if you like, but this is not essential.
3
Leave to dry in the oven at 194°F (90°C) for 6 hours.

This time is just for guidance, as it will depend on the ripeness of your apricots and could take longer (8 hours, for instance). Do check after this time to see how well they have dried.
4
Leave to cool on a wire rack, then keep in a sealed jar.
Remarks
It is important to use very ripe apricots, or the drying will bring out any tartness.
You can also sprinkle the apricots with caster sugar before they go in the oven, but they will no longer have that natural dried apricot flavour.
Those fortunate enough to have a proper
bread oven
can make use of the residual heat after baking bread. Put the apricots in at 194°F (90°C) and leave for 8 to 10 hours.
---
December 6th 2023.