Confit of quinces in Macvin
A recipe from
cooking-ez.com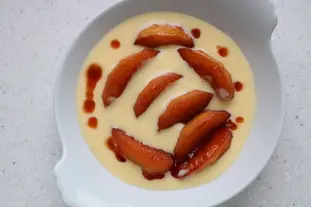 For 4 people, you will need:
Times:
| Preparation | Cooking | Start to finish |
| --- | --- | --- |
| 10 min. | 1 hour 10 min. | 1 hour 20 min. |
Step by step recipe
1: Peel 4 quinces, cut into quarters and remove the core. Cut each piece in half again lengthways.
Each quince will give you 8 slices.
2: If you are not going to cook them right away, keep the quince slices in a bowl of water with a little lemon juice added or, better still, vitamin C, to stop them turning brown.
3: Melt 30 g Clarified butter in a frying pan on high heat. When really hot, add 2 tablespoons caster sugar.
4: Leave the sugar to caramelize slightly, then add the quince slices.
5: Brown on both sides.
6: Then add 400 ml Jura Macvin and turn the heat down to its lowest.
7: Leave to stew gently for 40 minutes to 1 hour, adding a little more Macvin from time to time if the fruit starts to dry out.
You will see that they take on a lovely reddish colour.
8: Once the quinces are completely soft, there should only be a very little reduced Macvin left in the bottom of the pan.
Transfer the quinces to individual dessert plates or dishes and pour a generous amount of custard over.
Serve immediately.
Remarks
You can use another fortified or dessert wine, such as Banyuls, instead of the Macvin.
---
August 14th 2022.