Creamy asparagus and meat timbale
A recipe from
cooking-ez.com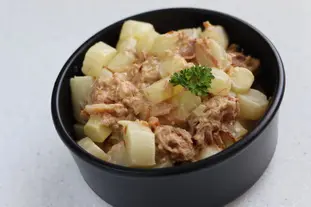 For 4 people, you will need:
1

400 g asparagus

2

200 g cooked meat

3

2 tablespoons oil

4

50 g poultry cooking juices (optional)

5

300 ml liquid cream

6

salt

7

pepper
Total weight: 930 grams
Times:
| Preparation | Cooking | Start to finish |
| --- | --- | --- |
| 26 min. | 19 min. | 45 min. |
Step by step recipe
1: Prepare and cook 400 g asparagus.
2: Once drained and cooled, cut into small pieces.
3: Cut 200 g cooked meat into small pieces (leftover roast pork here).
4: Put a pan on medium heat. Pour in 2 tablespoons oil and when good and hot, add the chopped meat.
Fry for a few minutes to suit your taste, stirring from time to time.
5: Add 300 ml liquid cream and 50 g poultry cooking juices (if possible), salt and pepper, then check the seasoning.
Bring to the boil and leave to reduce for a few minutes.
6: Add the asparagus, mix well and cook for a further minute, just to reheat.
7: Serve piping hot in individual dishes or large ramekins.
Remarks
You can use any leftover meat you like: pork, beef, poultry, etc.
The same goes for the jus, whether meat or poultry. Just use what you have to hand, even half a stock cube.
---
December 7th 2023.