How to cook Morteau sausage well
A recipe from
cooking-ez.com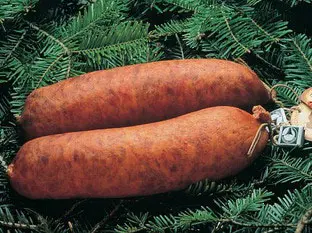 you will need:
Times:
Step by step recipe
1:

Cooking in water:

It's the more often used way, but unfortunately the less best one: a part of the sausage taste flavor with cooking water.
Put the sausage in a large pan and cover with cold water, don't prick it because water would get inside and spoil the flavor, cook on medium heat, covered with a lid, for 40 minutes.
Note: Then you can use the cooking water, for cooking rice or pasta for example.
2:

Cooking in oven:

Tastier because the sausage cooks in its own juices, which concentrates flavors.
Wrap sausage in 2 layers of aluminum foil, put in the oven at 390°F (200°C), for approximately 40-45 minutes.
3:

Cooking on potatoes:

It's what I call "lodge sausage", we cook it in a large pan on bed of a peeled and cut potatoes. You will find the detailed recipe on this page. A pure delight...
Remarks
See also the
products
page devoted to
Morteau sausage
.
---
February 18th 2020.