How to heat plates
A recipe from
cooking-ez.com
184K
4
3.2
February 21
th
2011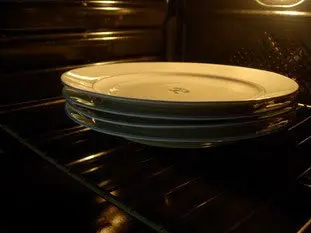 Times:
Step by step recipe
1: In oven:
Put plates in the oven at 140° to 194°F (60°C to 90°C) for about 15 minutes.
Caution: Beyond 176°F (80°C) you can burn yourself by touching plates which are too hot.
2: In microwave oven:
Put plates in microwave oven for 2 minutes at max. power, with a cup or glass of water on top (you should never switch on your microwave without something with water in, or it can be damaged).
3: In hot water:
Put your plates in sink and add water as hot as possible.
Leave 5 minutes, then dry and use them.
---
September 29th 2021.