How long does it take?
Time required for this recipe:
| Preparation | Start to finish |
| --- | --- |
| 22 min. | 22 min. |
At what time:
When will I finish if I start the recipe at ... ?
When should I start for the recipe to be ready at ... ?
---
Step by step recipe
---
Stage 1 - 15 min.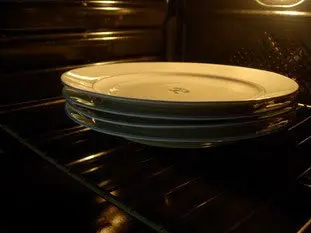 In oven:

Put plates in the oven at 140° to 194°F (60°C to 90°C) for about 15 minutes.

Caution: Beyond 176°F (80°C) you can burn yourself by touching plates which are too hot.
---
Stage 2 - 2 min.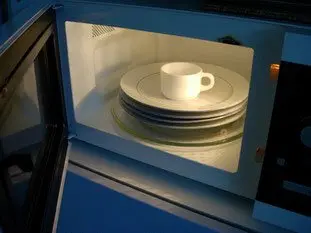 In microwave oven:

Put plates in microwave oven for 2 minutes at max. power, with a cup or glass of water on top (you should never switch on your microwave without something with water in, or it can be damaged).
---
Stage 3 - 5 min.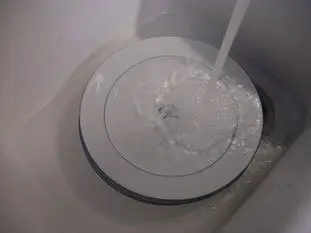 In hot water:

Put your plates in sink and add water as hot as possible.

Leave 5 minutes, then dry and use them.
Source
Home made.
Other recipes you may also like
News list of cooking-ez.com
Sign up to receive the latest recipes (next batch due to be sent on 2021-05-09)
Note: We'll never share your email with anyone else.
Follow this recipe (as 4 people already do)
If you are interested in this recipe, you can "follow" it, by entering your email address here. You will then receive a notification immediately each time the recipe is modified or a new comment is added. Please note that you will need to confirm this following.
Note: We'll never share your email with anyone else.