How to keep a tart pastry case crisp
A recipe from
cooking-ez.com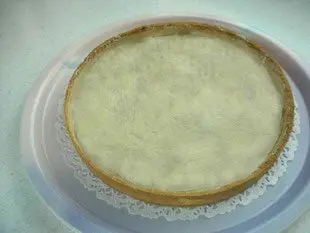 For 1 tarte, you will need:
1

50 g white chocolate
Total weight: 50 grams
Times:
| Preparation | Resting | Cooking | Start to finish |
| --- | --- | --- | --- |
| 10 min. | 20 min. | 30 min. | 1 hour |
Step by step recipe
2: Melt 50 g white chocolate in a bain-marie.
3: You will notice how, unlike dark chocolate, white chocolate stays quite thick and pasty when melted.
4: Spread a thin layer of white chocolate over the base and up the sides of the tart case.
The pasty consistency of the chocolate makes this tricky, so I advise you to use a pastry brush, holding the bristles firmly to make them stiffer.
5: The aim is to produce something like this: the pastry case (shown in brown) with a thin chocolate "lining" (yellow) to protect the pastry from the moist filling (red).
6: Try to make an even layer over the whole of the pastry case.
Refrigerate for about 20 minutes.
7: Now your tart is ready for filling.
Remarks
Believe me, this tip will change your life! It works unbelievably well.
Of course, you can only do this with tarts that are not going to be cooked after filling. Doing this to a tart case that is about to go in the oven is useless.
It is easy to imagine this working (though I have yet to try it) with dark chocolate, though the chocolate flavour would be noticable, which might work well for certain tarts.
---
December 8th 2023.