How long does it take?
Time required
| Preparation | Resting | Cooking | Start to finish |
| --- | --- | --- | --- |
| 10 min. | 20 min. | 30 min. | 1 hour |
Keeping:
A few hours in the fridge
At what time?
When will I finish if I start the recipe at a certain time?
When should I start for the recipe to be ready at a certain time?
Work this out...
---
Step by step recipe
---
---
Stage 2 - 5 min.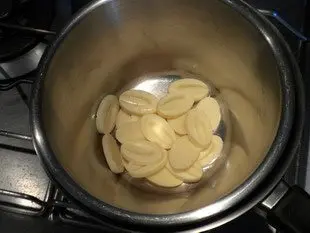 ---
Stage 3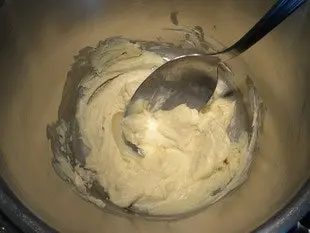 You will notice how, unlike dark chocolate, white chocolate stays quite thick and pasty when melted.
---
Stage 4 - 10 min.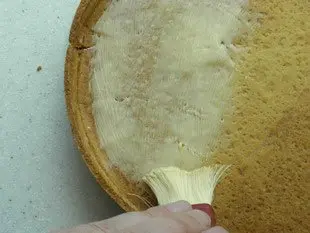 Spread a thin layer of white chocolate over the base and up the sides of the tart case.
The pasty consistency of the chocolate makes this tricky, so I advise you to use a
pastry brush
, holding the bristles firmly to make them stiffer.
---
Stage 5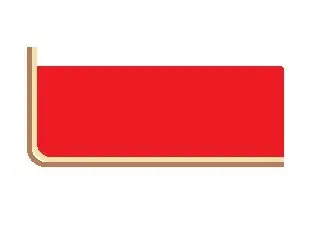 The aim is to produce something like this: the pastry case (shown in brown) with a thin chocolate "lining" (yellow) to protect the pastry from the moist filling (red).
---
Stage 6 - 20 min.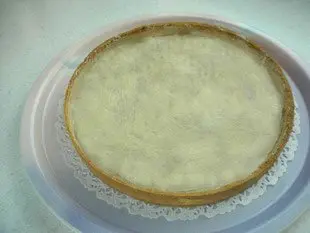 Try to make an even layer over the whole of the pastry case.

Refrigerate for about 20 minutes.
---
Stage 7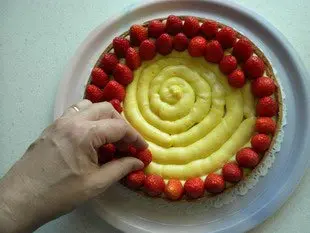 Now your tart is ready for filling.
Remarks
Believe me, this tip will change your life! It works unbelievably well.

Of course, you can only do this with tarts that are not going to be cooked after filling. Doing this to a tart case that is about to go in the oven is useless.

It is easy to imagine this working (though I have yet to try it) with dark chocolate, though the chocolate flavour would be noticable, which might work well for certain tarts.
Nutritional information
% are calculated relative to a Recommended Dietary Intake or RDI of 2000 k-calories by day for a woman (change to a man).
How much will it cost?
Note : These prices are only approximate
Source
Home made.
More recipes?
This recipe uses (among others)
News list of cooking-ez.com
Sign up to receive the latest recipes (next batch due to be sent on 2019-06-30)
Note: We'll never share your email with anyone else.
Follow this recipe
If you are interested in this recipe, you can "follow" it, by entering your email address here. You will then receive a notification immediately each time the recipe is modified or a new comment is added. Please note that you will need to confirm this following.
Note: We'll never share your email with anyone else.