How to prepare a bain-marie
A recipe from
cooking-ez.com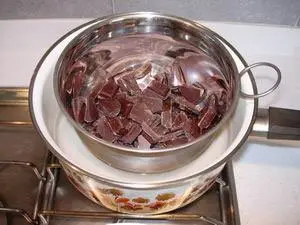 Times:
| Preparation | Cooking | Start to finish |
| --- | --- | --- |
| 2 min. | 5 min. | 7 min. |
Step by step recipe
1: For this you will need two containers: the first (a pan) is on the hob and contains a little water, the second (a bowl or another pan) rests in the water but not in direct contact with the heat, which allows a slow rise in temperature.
2: To make one, the best way is to put something which will withstand heat in the bottom of the first pan, which can support the weight of the second container, and on which you will pour water until covering it with approximately 1 to 2 cm (1 inch).
You can use a pie ring, as in the photograph, or a small baking tin or quite simply 2 teaspoons.
3: And then place the second container on top, and put on low heat.
Your bain-marie is now fully functional.
---
June 18th 2021.