How to prepare broccoli
A recipe from
cooking-ez.com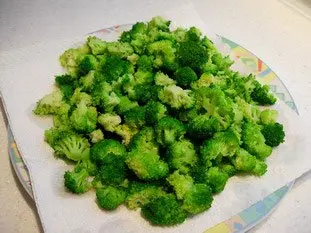 For 1 broccoli, you will need:
1

1 broccoli

2

2 tablespoons white (spirit) vinegar

3

2 tablespoons coarse salt
Total weight: 260 grams
Times:
| Preparation | Cooking | Start to finish |
| --- | --- | --- |
| 32 min. | 3 min. | 35 min. |
Step by step recipe
1: Place the brocoli in front of you, head downwards.
2: The "head" is made up of many parts, often called "florets". Cut one near the base to detatch it.
3: Do the same with this "head", dividing it by cutting off the smaller individual florets.
You should keep only these florets, the tenderest part of the broccoli, and set aside the stalks (left on the photo) that you can use for a soup for example.
4: This small video show you how to.
5: Prepare all the broccoli like this.
6: Then put to soak in cold water with a little vinegar added.
7: Bring to the boil a large pan of salted water, using 2 tablespoons coarse salt per litre. Drain the broccoli and plunge into boiling water.
Cook for just 1 minute after the water comes back to the boil.
Notice the lovely emerald green colour they take on at this stage.
9: When completely cooled, drain and dry in a salad spinner to remove as much cooking water as possible.
10: Your broccoli are ready. Keep on a cloth or absorbant paper on a plate.
11: You can see on this video a summary of all the steps.
Remarks
Prepared like this the broccoli can be added to a dish or frozen for later use.
---
December 8th 2023.