For
1 broccoli

, you will need:
1

1 broccoli

2

2 tablespoons white (spirit) vinegar

3

2 tablespoons coarse salt
Total weight: 260 grams
Change for:
Measures:
How long does it take?
Time required
| Preparation | Cooking | Start to finish |
| --- | --- | --- |
| 32 min. | 3 min. | 35 min. |
At what time?
When will I finish if I start the recipe at a certain time?
When should I start for the recipe to be ready at a certain time?
Work this out...
---
Step by step recipe
---
Stage 1 - 1 min.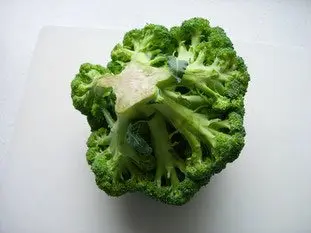 Place the brocoli in front of you, head downwards.
---
Stage 2 - 1 min.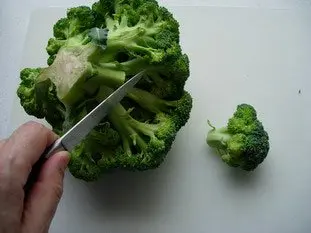 The "head" is made up of many parts, often called "florets". Cut one near the base to detatch it.
---
Stage 3 - 2 min.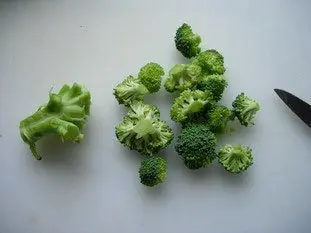 Do the same with this "head", dividing it by cutting off the smaller individual florets.

You should keep only these florets, the tenderest part of the broccoli, and set aside the stalks (left on the photo) that you can use for a soup for example.
---
Stage 4
This small video show you how to.
---
Stage 5 - 20 min.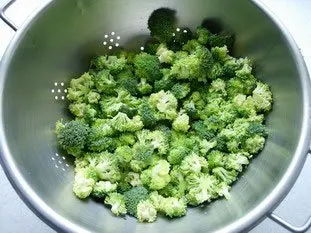 Prepare all the broccoli like this.
---
Stage 6 - 2 min.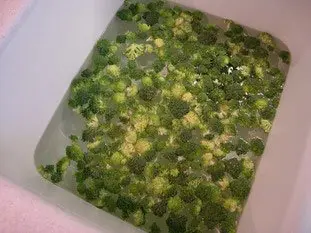 Then put to soak in cold water with a little vinegar added.
---
Stage 7 - 3 min.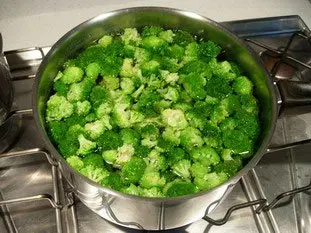 Bring to the boil a large pan of salted water, using 2 tablespoons coarse salt per litre. Drain the broccoli and plunge into boiling water.

Cook for just 1 minute after the water comes back to the boil.

Notice the lovely emerald green colour they take on at this stage.
---
Stage 8 - 1 min.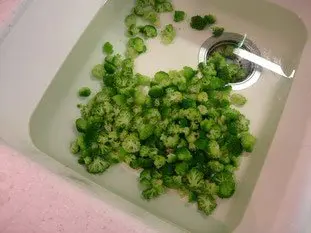 ---
Stage 9 - 5 min.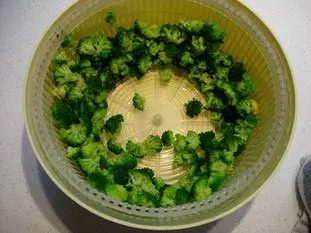 When completely cooled, drain and dry in a
salad spinner
to remove as much cooking water as possible.
---
Stage 10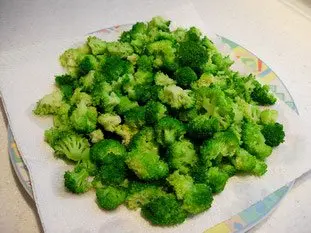 Your broccoli are ready. Keep on a cloth or absorbant paper on a plate.
---
Stage 11
You can see on this video a summary of all the steps.
Remarks
Prepared like this the broccoli can be added to a dish or frozen for later use.
Nutritional information
% are calculated relative to a Recommended Dietary Intake or RDI of 2000 k-calories or 8400 k-joules by day for a woman (change to a man).
How much will it cost?
Note : These prices are only approximate
Source
Home made.
More recipes?
This recipe uses (among others)
| | |
| --- | --- |
| | White (spirit) vinegar: You can check-out other recipes which use it, like for example: Béarnaise sauce, Beurre blanc sauce, How to prepare sorrel, Caesar salad, Poached eggs, ... All |
| | Coarse salt: You can get more informations, or check-out other recipes which use it, for example: How to prepare spinach, Gravlax, Foie gras cured in salt, French bean salad with vinaigrette , How to prepare endives , ... All |
| | Broccoli: You can check-out other recipes which use it, like for example: Sliced chicken with mushrooms and broccoli, Potato and broccoli gratin, Sautéed Green Vegetables, Broccoli savoury custard, Sautéd broccoli with ham, ... All |
News list of cooking-ez.com
Sign up to receive the latest recipes (next batch due to be sent on 2019-07-28)
Note: We'll never share your email with anyone else.
Follow this recipe (as 20 people already do)
If you are interested in this recipe, you can "follow" it, by entering your email address here. You will then receive a notification immediately each time the recipe is modified or a new comment is added. Please note that you will need to confirm this following.

Note: We'll never share your email with anyone else.