How to prepare cauliflower
A recipe from
cooking-ez.com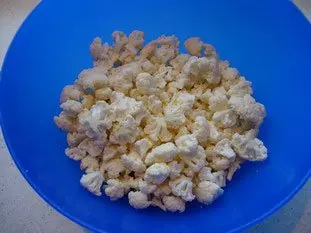 For 1 cauliflower, you will need:
0

1 cauliflower
Total weight: 1,200 grams
Times:
Step by step recipe
1: The cauliflower is made up of a white heart surrounded by stiff green leaves.
2: Place the cauliflower on its side. Cut off the stalk and discard it, then break off and discard the remaining leaves.
3: Repeat the operation, cutting more deeply into the stalk, and removing any more leaves that remain...
4: ...until you are just left with the white heart of the cauliflower. Brush this under running water.
Note: You should not soak the cauliflower, as it has a tendancy to absorb water like a sponge.
5: Cut the cauliflower into pieces by cutting into the centre and separating the florets (like little bouquets or trees).
6: Cut off and discard the stalks of the florets, which will produce other smaller florets.
7: Do this again...
8: ... until you end up with just the outer florets of the cauliflower which are small and very tender.
9: Collect up the small florets, which are now ready to be used in your recipe.
Remarks
It's rather long to do, but with this method, you will just have the best of the cauliflower, which cooks rapidly.
Regarding the cooking, it's important for this to be quick so that the cauliflower stays firm and keeps its flavour, but also so that your house is not filled with the smell of overcooked cauliflower.
If you have, in spite of everything, ended up with a soaking wet cauliflower, you can dry it by putting the florets in a
salad spinner
.
---
April 19th 2021.