How to prepare a lettuce
A recipe from
cooking-ez.com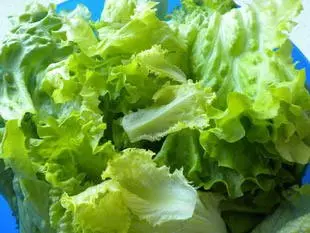 you will need:
1

1 lettuce

2

1 tablespoon white (spirit) vinegar
Total weight: 315 grams
Times:
| Preparation | Resting | Start to finish |
| --- | --- | --- |
| 18 min. | 10 min. | 28 min. |
Step by step recipe
1: Stand the lettuce with the stalk upwards.
2: Pull off any damaged leaves and discard.
3: Lie the lettuce on its side and cut off the stalk.
4: You can trim off the stiff white part at the base of the leaves if you want a more tender lettuce.
5: Try to keep the "heart" of lettuce, kids love to find it in their plates.
6: Put the lettuce leaves in a large container of water that is not too cold (more efficient at removing any earth), adding 1 tablespoon white (spirit) vinegar.
Leave the leaves to soak for 10 minutes or so to wash them.
7: After this, "play the spider", which means remove the leaves from the water by lifting them out with your hands. This leaves any dirt at the bottom undisturbed.
8: Put the leavves in a salad spinner and give them a good whirl.

9: Your lettuce is ready.
Remarks
The simplest way to dress a salad? A good
vinaigrette
and a few chopped herbs. There's nothing better before all that lovely French cheese arrives on the table !
---
December 8th 2023.