How to peel pistachios
A recipe from
cooking-ez.com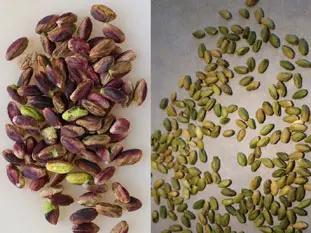 For 110 g, you will need:
0

125 g pistachios
Total weight: 125 grams
Times:
| Preparation | Cooking | Start to finish |
| --- | --- | --- |
| 12 min. | 16 min. | 28 min. |
Step by step recipe
1: Pistachios in their skins have a purplish colour.
2: Tip the pistachios into a pan of boiling water.
Wait until this comes back to the boil, then turn off the heat.
3: Take out a few pistachios and drain them.
4: Press a pistachio between your fingers to squeeze it out of its skin.
Discard the skin and tackle the next one.
It's a long and tedious job. Work in batches, keeping the waiting pistachios thoroughly wet, otherwise the skin will stick.
5: I advise you to dry the peeled pistachios in the oven at 300°F (150°C) for 15 minutes. They should then keep well.
Keep dry in a sealed container.
Remarks
If you prefer to skip the drying in Stage 5, you will need to use up your pistachios rapidly or they risk turning mouldy.
---
September 21th 2021.