Potted meat (rillettes)
A recipe from
cooking-ez.com
360K
2
4.0
October 3
rd
2019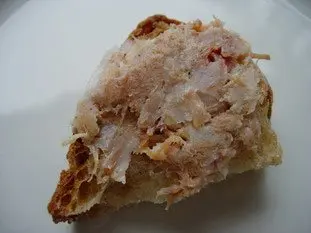 For 1 kg 800 g, you will need:
1

1 kg belly (streaky) bacon (unsalted)

2

500 g ham

3

200 g lard

4

18 g coarse salt

5

4 g pepper

6

50 g lard
Total weight: 1,772 grams
Times:
| Preparation | Cooking | Start to finish |
| --- | --- | --- |
| 33 min. | 6 hours 13 min. | 6 hours 46 min. |
Step by step recipe
1: Remove the rind and any hard parts of 1 kg belly (streaky) bacon (unsalted), cut into pieces.
2: Cut 500 g ham into pieces.
3: Melt 50 g lard in a large pan over high heat.
4: Add the pieces of pork, and leave to colour a few minutes.
5: Turn the heat down to minimum and add the pieces of ham and 200 g lard.
6: Add 18 g coarse salt and 4 g pepper.
Note that the good ratio is 12 grams of salt + 3 grams of pepper per kilo of meat.
If you use a different weight of meat, you can calculate a new seasoning with this little calculator:
7: Cover the pan and leave on very low heat for 6 hours.
8: After 6 hours, the meat will be reduced to a conserve.
9: With a skimmer or wooden spoon, mix the lot. The meat will fall apart into small shreds and form rillettes.
10: Mix until reaching desired consistency: not too much if (like me) you prefer to have bigger pieces in your rillettes, more if you prefer the rillettes smoother.
11: Put rillettes into jars, removing meat with a skimmer, and cover the top with a little lard.
Leave to cool, then cover, then refrigerate overnight or longer.
Share with friends with a good bread, and pickles or mushrooms in vinegar.
The acid taste of pickles goes well the mildness of the rillettes, and if you also have a good red wine, then you will be kings of all the world...
Remarks
If you like to vary proportions, please try to respect: Half as much ham as fat pork (belly), 12 g salt + 3 g pepper per kilogram meat.
For the duck version, replace lard with duck fat, and ham with duck breasts. It's a very very good idea to use the fat from cooking a
foie gras
for this.
---
December 5th 2021.