Roast beef "like they do it in Santa Fe"
A recipe from
cooking-ez.com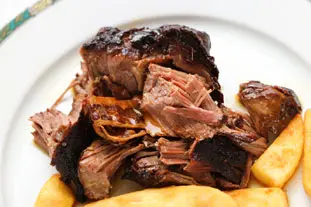 For 6 people, you will need:
Times:
| Preparation | Cooking | Start to finish |
| --- | --- | --- |
| 18 min. | 5 hours 21 min. | 5 hours 39 min. |
Step by step recipe
1:

Prepare the flavouring ingredients

Prepare 1 carrot.
Prepare 3 shallots.
Rinse and dry 1 bayleaf and 1 sprig thyme.
2:

Prepare the meat


Trim a 1 kg beef joint.
Pepper and salt all over.
3: Pour 2 tablespoons oil into a large frying pan on high heat.
When really hot (lightly smoking), add the beef and fry for about 1 minute on each side until browned all over.
Take off the heat.
4: Grill (broil), rather than fry, 200 g belly (streaky) bacon in thin slices.
5: Wrap the bacon around the joint and tie in place with food-grade string.
6: Put the meat into a roasting bag with the flavouring ingredients (carrot, shallots, thyme and bayleaf) and 30 g chilli powder.
You can aslao add 2 tablespoons Clarified butter if you are worried that the meat will be too dry, but this is not essential.
Seal the bag and sit it in an oven-proof dish. Cook for 5 hours at 300°F (150°C).
7: After this long cooking, you will see that the meat has given off wonderful juices, full of flavour and with very little fat - a feature of slow cooking.
Tip out the contents of the bag into the serving dish and discard the flavouring ingredients. Serve without delay with the your choice of side dishes.
If you will not be serving the roast right away, put it back in the oven to keep hot.
Remarks
This is an opportunity to use a cheaper cut of meat. Even if it seems a bit tough or stringy, the magic of long slow cooking will transform all that (there's no need to go for sirloin or another expensive cut). Ask your butcher for "braising" or "stewing" beef; a good butcher will be able to advise you. If not, opt for cuts like chuck, flank, brisket, etc.
---
September 26th 2021.