Brioche dough
A recipe from
cooking-ez.com
452K
4
4.2
September 16
th
2020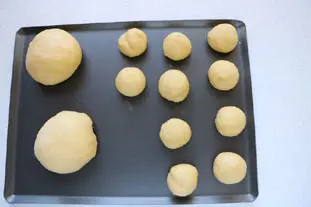 For 1 kg 250 g, you will need:
Times:
| Preparation | Resting | Start to finish |
| --- | --- | --- |
| 12 hours 57 min. | 1 hour 30 min. | 14 hours 27 min. |
Step by step recipe
1: Cut 225 g butter in small pieces, let stay at ambient temperature.
2: In the bowl of a mixer, pour 325 g egg puis 500 g plain white flour (French Type 45), 15 g yeast, 25 g caster sugar et 9 g fine (or table) salt.
3: Kneed at low speed for 3 minutes, then 8 minutes at medium speed.
4: Add 100 g fermented viennoiserie dough and 50 g caster sugar.
5: Kneed at medium until dough stop to stick to the bowl (10-15 minutes usually).
6: Add butter.
7: Kneed at medium speed until butter is fully incorporated.
8: Cover dough with plastic film, and let stay 1 hour at ambient temperature.
9: After this time dough has inflated, starting fermentation, which is good.
10: Remove plastic film and stretch the dough by lifting it up and letting it suddenly drop. This will remove all the fermentation gas.
11: Put back film on top, and put in the fridge for the night.
12: The day after, dough has inflate a bit, get cold, and can now be manipulated.
Pour the dough on your working surface with some flour on it.
13: Spread the dough using your hand.
14: Cut stripes of dough, and cut those stripes in pieces of the chosen weight.
15: For example 40 grams pieces to make a Nanterre brioche...
16: ... or 250 grams pieces for brioche pies.
17: Roll dough pieces in balls, put on a baking sheet, cover with a plastic sheet, and put in the fridge for 30 minutes.
Then your brioche dough is ready to use in your recipe.
Remarks
It's more easy to succeed in making good brioche by using a special flour, strong in gluten, called "Farine de gruau". If you can't have this one, try to use a T45 flour.
---
September 27th 2021.