Foie gras Chantilly
A recipe from
cooking-ez.com
78K
4.7
September 17
th
2013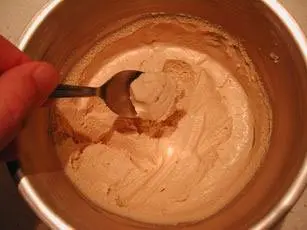 For 400 ml, you will need:
Times:
| Preparation | Cooking | Start to finish |
| --- | --- | --- |
| 23 min. | 5 min. | 28 min. |
Step by step recipe
1: Cut 200 g Foie gras into small pieces, and pass it througt a sieve.
2: Prepare a bain marie and put foie gras in with 100 ml Vegetable stock.
this liquid could also be:

Chicken stock with a little port or brandy
A fifty-fifty mix of chicken stock and dry white wine
Truffle juice
etc...

3: Put over low heat to melt the foie gras, stirring from time to time.
4: When foie gras is completely melted, remove from bain-marie and put in a cold bath.
5: Put the bowl in the cold bath, and start to whip (watch out for the splashes).
6: Foie gras froths into Chantilly quickly, stop when it is fairly firm.
You can now serve it on small toasts.
7: Foie gras Chantilly can be made with a gourmet whip, proceed as a Chantilly cream and see how to in this video.
Remarks
Following the same idea, it is possible to make
chocolate chantilly
.
If you have a lot of splashes when whipping, it could mean that your mix is too liquid.
Don't forget that the Chantilly will get firmer, even after you stop whipping, So it's not necessary to overwhip.
If you don't use all the preparation at a time, refrigerate it for later use. If it goes flat, melt and whip again.
To know more on this subject, see the publications and works of
Hervé THIS
, chemist and very good teacher, which explain all that you always wanted to know about this subject, and more besides.
---
September 18th 2021.