Potato purée
A recipe from
cooking-ez.com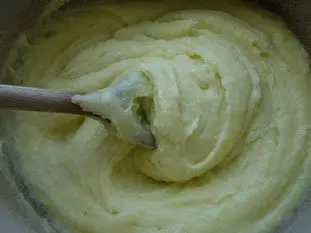 For 1 kg 300 g, you will need:
Times:
| Preparation | Cooking | Start to finish |
| --- | --- | --- |
| 50 min. | 45 min. | 1 hour 35 min. |
Step by step recipe
1: Wash 1 kg potatoes but don't peel them. Put on to boil in a large pan of lightly-salted water.
The potatoes are cooked when a knife blade goes through them easily.
2: Remove them from the water as soon as they are cooked (don't leave them to cool in the water, they might take on an unpleasant taste).
3: As soon as they are cool enough to handle, peel them and remove any small blemishes (the "eyes" of the potato).
4: Cut into pieces and pass through a vegetable mill using the finest setting.
If you don't have a vegetable mill, use a potato masher (a sort of grid on a handle), but it's hard work.
5: Put the mashed potatoes in a pan.
6: Stir constantly over low heat for 4 or 5 minutes to dry the purée.
This is to improve the texture.
7: Then add 125 g butter cut into small pieces, a little at a time, stirring well until the butter is completely incorporated.
8: Add 125 g cream and mix again thoroughly.
9: Salt and pepper. Your potato purée is ready.
Already quite delicious just as it is, you can serve it "Irish style", for example, with a little chopped chives.
10: You can improve it even further by passing it through a sieve. It's long and tiring...
11: ...but you'll have the finest, smoothest potato purée ever.
Remarks
I advise you to use white pepper rather than black; it's less noticable in the finished purée (no little black bits).
The great chef Joel Robuchon liked to say that he built his restaurant's reputation on its potato purée and green salad. Indeed, I got the idea of using the sieve from him, but please note that in his day he used 250g (½ lb) of butter for 1 kg (just over 2 lb) of potatoes!
---
May 27th 2020.