Quince and apple compote
A recipe from
cooking-ez.com
41K
3.3
December 30
th
2019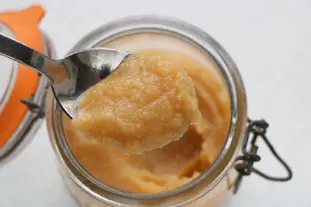 For 800 g, you will need:
0

600 g quince

1

60 g water

2

500 g apple

3

4 tablespoons water

4

10 g Vanilla sugar

5

60 g brown sugar
Total weight: 1,290 grams
Times:
| Preparation | Cooking | Start to finish |
| --- | --- | --- |
| 32 min. | 27 min. | 59 min. |
Step by step recipe
1: Thoroughly wash 600 g quinces.
2: Peel the quinces and cut into quarters. Remove the core and cut the remaining flesh into small pieces.
You will see just how difficult this is to do. Raw quinces are very hard to cut up and the pieces will oxydise and turn brown very rapidly.
From 600 g of whole quinces you should end up with about 350 g of prepared fruit. Make a note of the weight.
3: Put the quince pieces into a saucepan, add 60 g water, then cover and put on gentle heat to cook.
4: After 20 minutes or so, the pieces of quince will be soft and there should be very little liquid left.
5: Peel 500 g apple and cut into small pieces.
Add the same weight of apple to the pan as quince (350 g in our example).
6: Put back on low heat and leave to cook...
7: ...until the apples are tender.
8: Finish by blending to give a smooth compote.
9: Leave to cool before transferring into jars.
Remarks
You can vary the proportion of quince to apple, starting from this initial half-and-half recipe, depending on which flavour you wish to bring out.
If you prefer a smooth compote, put the cooked fruit pieces through a
vegetable mill
on "fine" setting, just before
stage 5
, rather like for
quince paste
.
---
September 24th 2021.