Real custard sauce (crème anglaise)
A recipe from
cooking-ez.com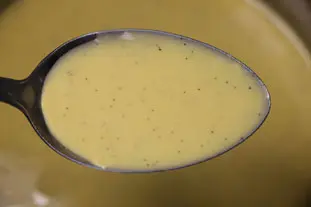 For 350 g, you will need:
Times:
| Preparation | Resting | Cooking | Start to finish |
| --- | --- | --- | --- |
| 16 min. | 15 min. | 13 min. | 44 min. |
Step by step recipe
1: In a pan, pour 250 ml whole milk and add 1 vanilla pod.
2: Bring to the boil, then turn off the heat, cover the pan and leave vanilla to infuse 10 minutes.
3: Put 3 egg yolks and 40 g caster sugar in a bowl.
4: And without delay mix well using a maryse.
5: Pour the hot milk onto the egg yolks + sugar and mix well.
6: Wash the pan, and pour the mixture back into it through a fine strainer to eliminate any small impurities which are left.
7: Put on medium heat, and cook while stirring continuously, scraping the bottom of the pan with a maryse or a spatula.
To start with you will notice that the mixture doesn't "glaze" the maryse or the spatula.
8: But when custard is cooked, it "glazes" the spatula. This happens after about 10 minutes.
Be careful during cooking: the custard should never boil, otherwise it will go lumpy... If unfortunately this happens to you, take off the heat immediately and mixer for a few seconds.
9: Other way to be sure of good texture, use a thermometer and stop cooking at 180-185°F (82-85°C), never more.
10: When ready, take off the heat and plunge the bottom into a little cold water (in the sink will do fine) to stop cooking, leave to cool, stirring from time to time.
11: When cold, your crème anglaise is ready.
Remarks
Your crème anglaise will be better if you use full-cream milk.
If you have too many egg whites, you can make
meringues
or
financiers
with them.
---
June 19th 2021.