Scrambled eggs (Oeufs brouillés)
A recipe from
cooking-ez.com
241K
3.5
February 21
th
2011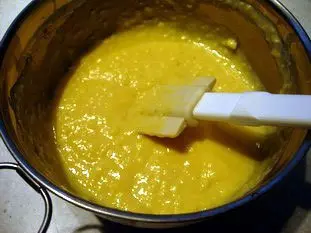 For 4 people, you will need:
Times:
| Preparation | Cooking | Start to finish |
| --- | --- | --- |
| 5 min. | 25 min. | 30 min. |
Step by step recipe
1: Break 6 eggs into a bowl, salt, pepper and beat thoroughly to get a smooth mixture.
Prepare a bain-marie over low heat, and put in beaten eggs. The (long) scrambling of the eggs is about to start.
2: The aim is to cook eggs slowly, not to get an omelette but something smooth.
To do this, stir eggs continously with a maryse or soft spatula, especially on bottom and around sides.
3: After some time (about 10 minutes), you will note that the eggs start to thicken, so pay more attention to bottom and sides.
4: Stop when you get something like a thick soup.
Remove immediately from bain-marie, but don't stop stirring.
5: Add 50 g butter in small pieces, and continue stirring until butter is completely melted.
6: Your œufs brouillés (scrambled eggs) are ready.
You can eat them now or use them in another recipe, they go well with many things.
Remarks
The most common error is to cook too fast or too hot, in which case you will get a kind of omelette, which has nothing in common with the delicacy of "œufs brouillés".
Probably due to preparation time, it's quite impossible to find œufs brouillés in restaurants now, which is a a pity.
Some recipes add cream to the eggs, I don't think it's necessary.
You can make your scrambled eggs in advance and reheat them (still in a bain-marie) at the last moment, but be careful to not cook them any further.
---
January 16th 2022.