Shortcrust pastry (pâte brisée)
A recipe from
cooking-ez.com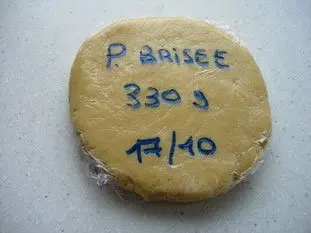 For 900 g, you will need:
Times:
Step by step recipe
1: In the food processor bowl, pour 2 eggs, 5 g fine (or table) salt and 20 g caster sugar.
Note: If you make this dough for a quiche or a savoury tart, add only the half of indicated sugar.
2: Add 350 g butter, cut in small pieces.
3: Then 500 g flour.
4: Switch on the food processor to knead.
5: Stop food processor as soon as dough is just mixed, 3-4 minutes maximum, and if necessary finish mixing with your hands.
Shortcrust pastry should be worked as little as possible, and it doesn't matter if there are still a few pieces of butter in the dough.
6: Cut dough into pieces of about 300g.
7: Make balls, then thick circles, and wrap them in plastic film.
Contrary to a very common idea, you should not keep the pastry in a ball, because it becomes hard, and then it's difficult to roll out.
8: Write on weight and date and store in the fridge until use, at least overnight if possible.
You can also freeze this dough easily.
Remarks
If you freeze it, let it thaw slowly overnight in the fridge.
If you intend to make a savory pie, leave half the indicated amount of sugar, do not remove everything, it will not sweeten the dough, but you will have a nice color when cooked.
---
February 23th 2020.