Toasted flaked almonds
A recipe from
cooking-ez.com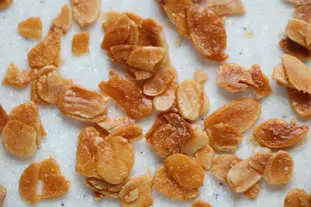 For 150 g, you will need:
1

150 g flaked almonds

2

3 tablespoons Sugar syrup
Total weight: 195 grams
Times:
| Preparation | Cooking | Start to finish |
| --- | --- | --- |
| 9 min. | 10 min. | 19 min. |
Step by step recipe
1: Preheat the oven to 150°C (300°F).
Mix 150 g flaked almonds and 3 tablespoons Sugar syrup with a fork.
2: Spread the almonds evenly on a non-stick baking sheet (if you don't have one, you need to use a sheet of cooking parchment as the almonds are very sticky when they come out of the oven).
Try as far as possible to make sure the almonds are not touching each other.
3: Put in the oven for about 10 minutes, watching very carefully for coloration.
4: Immediately after taking them out of the oven, unstick the almonds from the sheet with a wooden spatula and let them fall onto the worktop. They will still be a bit soft while hot, but not for long.
Separate them quickly as far as possible.
5: After a few minutes (or seconds maybe), the almonds will cool and harden. They will become very crunchy and are now ready.
When cool, keep in an air-tight container.
Remarks
You can add a few drops of orange flower water to the sugar syrup, but this is not essential.
---
October 22th 2019.