How long does it take?
Time required for this recipe:
| Preparation | Cooking | Start to finish |
| --- | --- | --- |
| 9 min. | 10 min. | 19 min. |
Keeping:
Several days in a sealed container.
At what time?
When will I finish if I start the recipe at a certain time?
When should I start for the recipe to be ready at a certain time?
Work this out...
---
Step by step recipe
---
Stage 1 - 3 min.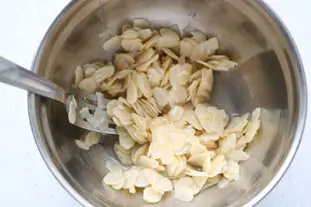 Preheat the oven to 150°C (300°F).
Mix 150 g flaked almonds and 3 tablespoons
Sugar syrup
with a fork.
---
Stage 2 - 3 min.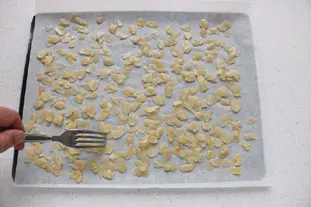 Spread the almonds evenly on a non-stick
baking sheet
(if you don't have one, you need to use a sheet of
cooking parchment
as the almonds are very sticky when they come out of the oven).
Try as far as possible to make sure the almonds are not touching each other.
---
Stage 3 - 10 min.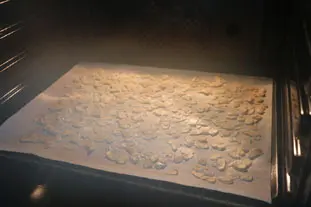 Put in the oven for about 10 minutes, watching very carefully for coloration.
---
Stage 4 - 3 min.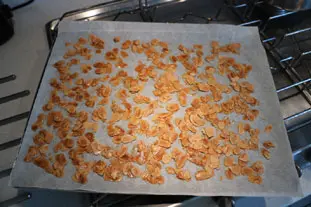 Immediately after taking them out of the oven
, unstick the almonds from the sheet with a
wooden spatula
and let them fall onto the worktop. They will still be a bit soft while hot, but not for long.
Separate them quickly as far as possible.
---
Stage 5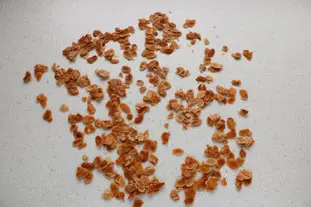 After a few minutes (or seconds maybe), the almonds will cool and harden. They will become very crunchy and are now ready.

When cool, keep in an air-tight container.
Remarks
You can add a few drops of orange flower water to the sugar syrup, but this is not essential.
Nutritional information
Whole recipe
Energetic value
Proteins
Carbohydrates
Fats
1,055 Kcal or 4,417 Kj
29 gr
50 gr
83 gr
53 %
11 %
5 %
13 %
Per 100 g
Energetic value
Proteins
Carbohydrates
Fats
541 Kcal or 2,265 Kj
15 gr
25 gr
42 gr
27 %
6 %
2 %
6 %
% are calculated relative to a Recommended Dietary Intake or RDI of 2000 k-calories or 8400 k-joules by day for a woman (change to a man).
Some recipes that use this recipe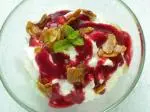 A "coupe Augustin" is a kind of sundae made with mint ice cream, slices of white peach poached in a light syrup, Chantilly cream, raspberry coulis and topped with toasted flaked almonds.
51,135
4.7/5 for 11 ratings 28 min.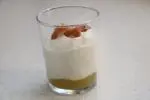 This delicious mousse is the perfect summer dessert: a delicate combination of stewed rhubarb and Italian meringue.
5,272 33 min.

You will no doubt be familiar with Bounty, the chocolate-covered coconut bar. Here's a melt-in-the-mouth version "on a plate" for a chic dessert.
118,476
4.6/5 for 19 ratings 1 hour 54 min.
See all recipes that use it
Source
Home made after Gaston Lenôtre.
More recipes?
This recipe uses (among others)
| | |
| --- | --- |
| | Flaked almonds: You can check-out other recipes which use it, like for example: Moist cereal bars, Paris-Brest, Nanou's chocolate cake, Sweet pancake rolls from Brittany, Traditional nutty choc-chip cookies, ... All |
| | Sugar syrup: You can get more informations, or check-out other recipes which use it, for example: Blackcurrant sorbet for Edith, Pear charlotte, Passion fruit jellies, Strawberry-mint sorbet, Pavlova, ... All |
Other recipes you may also like
News list of cooking-ez.com
Sign up to receive the latest recipes (next batch due to be sent on 2020-02-23)
Note: We'll never share your email with anyone else.
Follow this recipe
If you are interested in this recipe, you can "follow" it, by entering your email address here. You will then receive a notification immediately each time the recipe is modified or a new comment is added. Please note that you will need to confirm this following.
Note: We'll never share your email with anyone else.