Blackcurrant liqueur
A recipe from
cooking-ez.com
801K
4
4.1
August 3
rd
2013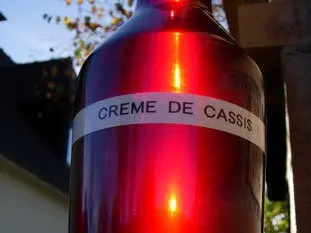 For 1 litre, you will need:
1

700 g blackcurrant

2

600 ml neutral-flavoured eau-de-vie

3

2 blackcurrants leaf (optional)

4

500 g caster sugar

5

300 ml water
Total weight: 2,100 grams
Times:
| Preparation | Cooking | Start to finish |
| --- | --- | --- |
| 41 min. | 10 min. | 51 min. |
Step by step recipe
1: Put 2 blackcurrants leaf in a 1 litre jar.
2: Quickly wash 700 g blackcurrant under the tap, drain and dry them.
Fill up the jar.
3: Fill the jar with 600 ml neutral-flavoured eau-de-vie. The fruit must be completely covered with the alcohol.
4: Seal the jar and leave in a cool and dark place for about 3 months.
5: After 3 months, the alcohol will have taken on a pretty red/purple color.
6: This means that all the flavour of the fruits has been transferred to the alcohol.
7: Empty the contents of the bottle into a strainer placed over a high-sided container (to avoid splashes - they stain!) and collect the blackcurrant juice.
8: Pour the juice into a pan.
You can now discard the fruit, they have lost all their taste.
9: Prepare the sugar syrup:
In another pan put 500 g caster sugar and 300 ml water.
10: Heat to about 110°C or 230°F, you can use a thermometer to check.
It takes about 10 minutes to reach this temperature.
11: Leave the syrup to cool for about 10 minutes, until the temperature drops below 100°C or 212°F.
12: Carefully mix the two liquids together:
Add the blackcurrant juice to the syrup.
13: Then pour this mix into the other pan.
14: Repeat this until the two liquids are thoroughly mixed.
It's important to do it like this because if you introduce a spoon or other utensil to stir with, the syrup might start to crystallize.
15: The blackcurrant liqueur is now ready, and can be bottled.
Remarks
Its essential to use good quality fruit for this recipe, with bad or ordinary fruit you will have poor liqueur, and with well-flavoured fruit a great one. Best results are obtained with wild fruits, especially raspberries.
A couple of leaves can be left in with blackcurrants, but not with other fruit.
If you are making strawberry liqueur, cut large fruit into 2 or 4.
If you have a lot of blackcurrants in season, make
blackcurrant coulis
.
---
August 18th 2022.