Mulled wine Belle-Plagne style
A recipe from
cooking-ez.com
217K
1
4.6
February 21
th
2011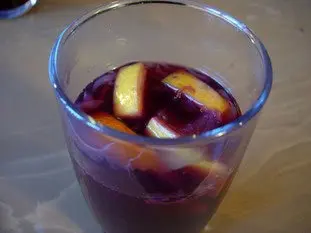 For 6 people, you will need:
1

1 litre red wine

2

3 oranges

3

1 grapefruit

4

1 sachet Vanilla sugar

5

5 tablespoons caster sugar

6

1 pinch cinnamon (optional)
Total weight: 2,315 grams
Times:
| Preparation | Cooking | Start to finish |
| --- | --- | --- |
| 29 min. | 1 hour 3 min. | 1 hour 32 min. |
Step by step recipe
1: I advise you to use a very basic wine.
Pour 1 litre red wine into a pan and bring to the boil on medium heat.
2: Meanwhile, cut fruit in half, set half an orange and a half grapefruit aside, and squeeze the others.
3: Scrub the skin of the other 2 half fruit thoroughly, and cut into small pieces, with both peel and flesh on each as far as possible.
4: When wine boils, set light to the alcohol vapours (a pretty blue flame) by holing a flame above the pan.
Leave all alcohol to burn off, which will take about 2-3 minutes.
5: Pour fruit juice into wine.
6: Add 1 sachet Vanilla sugar, 5 tablespoons caster sugar, and 1 pinch cinnamon, mix well.
7: Add pieces of fruit, turn down heat to minimum and leave to simmer until drinking time (but at least one hour).
8: Serve in glasses or mugs, a generous helping of wine and a few fruits.
Remarks
Many people think that the most important thing in mulled wine is the spices, but for me it's more the wine-fruit mix which gives the delicious hint of acidity. Then you can add whatever you want: vanilla, cinnamon, aniseed, pepper,...
For a quick mulled wine, forget: vanilla sugar, grapefruit and cinnamon.
For a glittering presentation, serve in glasses (not mugs) with the edges dipped in white egg then caster sugar.
---
November 27th 2021.