Black sesame flan
A recipe from
cooking-ez.com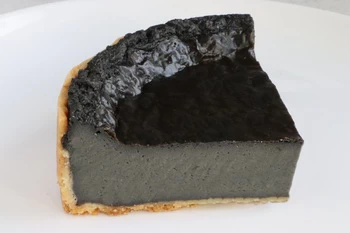 For 1 flan, you will need:
Times:
| Preparation | Cooking | Start to finish |
| --- | --- | --- |
| 42 min. | 50 min. | 1 hour 32 min. |
Step by step recipe
1: Place a circle 20 cm in diameter and 4.5 cm high on a sheet of baking paper on a baking sheet.
Spread with 300 g Shortcrust pastry (pâte brisée) and fill the circle, leaving the pastry overhanging the top.
Place in the fridge.
Preheat your oven to 180°C (360°F).
2:

Sesame flan mixture


Prepare 800 g Paris flan filling, and before thickening it over low heat, add 80 g Black sesame paste then mix carefully, the mixture turns completely grey which is normal.
3: Thicken over a low heat, and as for a classic mixture, finish off with the butter and the mixer to obtain a smooth mixture.
4:

Assembly


Take the circle and pastry out of the fridge.
This is not essential, but I advise you to temporarily remove the circle + pastry, sprinkle on the baking sheet 1 tablespoon caster sugar and 1 tablespoon sesame seeds...
5: ...before placing the pastry circle back on top. This improves the crispness of the flan pastry and adds a little sesame crunch too.
Trim and remove the excess pastry from the edge of the circle.
6: Line the pastry base with a sheet of baking paper, then fill with ceramic beads or equivalent.
7: Bake for 15-20 minutes.
Remove paper and beads.
8: Pour the mixture into the pastry base.
9:

Baking the flan


And bake in the oven for 20-30 minutes, keeping an eye on the color of the pastry.
10: Remove the ring once the flan is warm, then chill in the fridge before serving.
Remarks
To accentuate the sesame aspect, you can add a few roasted sesame seeds when you prepare the shortcrust pastry.
For decoration, you can also sprinkle the top of the flan with a few white sesame seeds, for a black-and-white contrast.
---
December 8th 2023.