Profiteroles
A recipe from
cooking-ez.com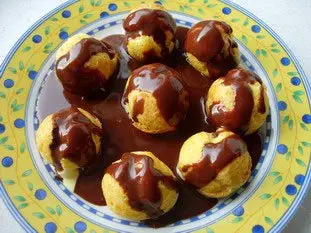 For 40 profiteroles, you will need:
Times:
| Preparation | Cooking | Start to finish |
| --- | --- | --- |
| 1 hour 20 min. | 15 min. | 1 hour 35 min. |
Step by step recipe
1: Preheat oven to 220°C or 428°F.
Make 450 g Choux pastry (pâte à choux).
Using a forcing bag, pipe small heaps of dough (about 1 cm or 0.8 inch diameter) on a baking sheet.
Round off the small peaks with a tablespoon dipped in milk.
Sprinkle a pinch of sugar on each heap.
2: Put in the oven and cook until choux are golden brown.
Leave to cool on a rack.
3: With a steak knife, split each choux in half, horizontally.
4: Fill each choux with a teaspoon of vanilla ice-cream.
5: And finally, top with plenty of chocolate sauce, warm or hot, and serve immediately.
Remarks
Classic profiteroles, as in this recipe, can be varied many ways: "inversed" with chocolate ice-cream and custard (
crème anglaise
), "mint out" with chocolate ice-cream, and mint crème anglaise or "mint in" with
mint ice-cream
and
chocolate sauce
, etc.
If you like them, you can sprinkle chopped almonds with the sugar top of dough heaps.
It's a dessert that can easily be made in advance, but filling with ice-cream and topping with chocolate sauce must be done at the last minute.
Contrary to most other recipes and websites, I think that profiteroles should be made with small "bite-size" puffs rather than big ones which need to be cut before eating. You should be able to eat profiteroles with a teaspoon.
---
May 31th 2020.