Quick orange marmalade
A recipe from
cooking-ez.com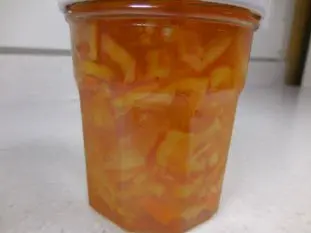 For 2 kg, you will need:
Times:
| Preparation | Cooking | Start to finish |
| --- | --- | --- |
| 31 min. | 40 min. | 1 hour 11 min. |
Step by step recipe
1: Wash 1 kg caster sugar. I've chosen to add a couple of lemons for a more tangy flavour, but this is not essential.
Buy organic fruit if possible, as you will be using the peel.
2: Plunge the fruit into boiling water for 10 minutes to blanch.
3: Trim the top and bottom off each orange and discard.
4: Slice, using a mandolin if you have one, as this makes the job a lot easier.
5: Then chop the slices into small pieces.
6: In a large pan, heat 1 kg caster sugar and 500 ml water to 230°F (110°C), using a
thermometer to check the temperature.
7: Add the fruit to the sugar syrup and mix well.
Let the temperature come back up to 221°F (105°C).
8: Your marmalade is ready.
9: Fill the jars and immediately turn them upside down. This will push the air trapped in the jars up through the hot marmalade and sterilize it.
Then stand the jars right way up.
Remarks
For jam or marmalade, it is better to work to temperatures rather than cooking time, which can vary a lot, depending on the ripeness of your fruit.
If the texture isn't right (too runny), you can add 2 g of agar-agar for each 1 kg of oranges.
---
February 18th 2020.