Soft fruits in sabayon
A recipe from
cooking-ez.com
250K
3.8
February 21
th
2011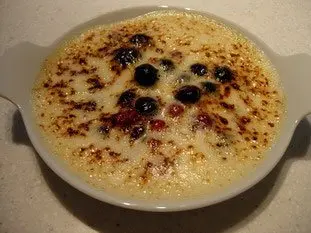 For 4 people, you will need:
Times:
| Preparation | Cooking | Start to finish |
| --- | --- | --- |
| 13 min. | 33 min. | 46 min. |
Step by step recipe
1: Mix 200 g soft fruit of your choice (raspberries, blackcurrants, bluberries, raspberries, currants...). Aim to include at least 3 kinds. You can use frozen fruit.
Wash the fruit quickly under running cold water, drain and dry them on a cloth.
If these fruits are not treated or come from your garden, just rinse very briefly, they will taste better.
2: Put 50 g caster sugar in a non-stick frying pan on high heat, tip fruit on top, stir gently.
3: Barely cook the fruit (one or two minutes), just so that sugar melts, mixes with the juice, and coats the fruit.
Remove from heat and set aside.
4: At the last minute, make 300 ml sabayon.
5: Fill a dessert plate or a small dish with a layer of semi-cooked fruits.
6: Cover with sabayon.
7: You can, if you want, just before serving, "burn" sabayon with a blow lamp, which adds an excellent hint of caramel flavour, but it's not essential.
Remarks
If you're not familiar with sabayon, you can replace it with a real custard (
crème anglaise
).
---
June 5th 2023.