How long does it take?
Time required for this recipe:
| Preparation | Cooking | Start to finish |
| --- | --- | --- |
| 8 min. | 10 min. | 18 min. |
At what time:
When will I finish if I start the recipe at ... ?
When should I start for the recipe to be ready at ... ?
---
Step by step recipe
---
Stage 1 - 5 min.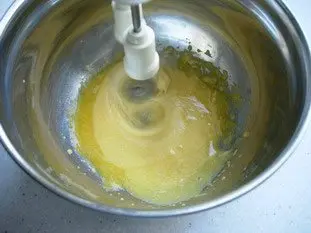 ---
Stage 2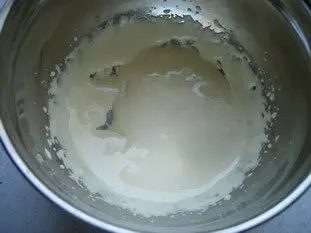 This whitening of the mixture happens because by beating, you incorporate thousands of tiny air bubbles into it.
---
Stage 3 - 3 min.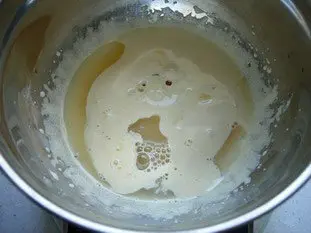 Add 6 tablespoons sweet white wine to mixture (or sweet wine, fruit juice, coffee, etc.) and 1 pinch
flour
, mix thoroughly.
Please note
, this pinch of flour is vital to the success of the sabayon. While over the bain-marie, this will facilitate the blending of the mixture:
an essential knack
to make your sabayon work every time (or almost), so you do not finish up with an omelette...
This is the first "secret" of success.
---
Stage 4 - 10 min.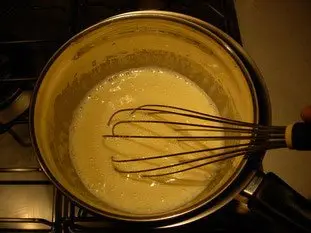 Put mixture in the bain-marie, and begin beating.

The bain-marie is the second "secret" of success, you need the temperature of the mixture to rise gradually.

You need to beat constantly until obtaining the shiny and smooth mixture desired.
---
Stage 5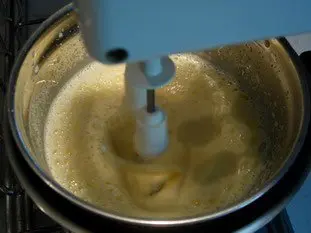 You can use an electric whisk, in which case do not beat too fast, but nothing is better than a simple hand
whisk
, you will keep operations under control.
---
Stage 6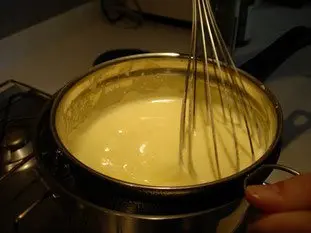 After few minutes, the mixture will begin to foam and thicken.
---
Stage 7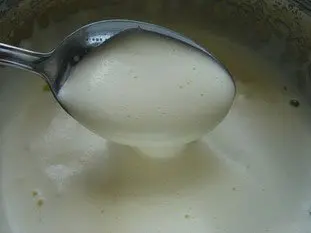 Stop when you like, it is necessary to arrive at a good compromise: quite shiny and very smooth... It's an absolute delight!
Remarks
The two important points for making a good sabayon are: a pinch of flour (for easier blending) and a bain-marie (gradual rise in temperature).

Syllabub is often poured over a dessert, but you can also serve it plain in a small cup (warmed beforehand) instead of coffee or tea.

Syllabub is best served warm, on something which should be neither too hot ( not straight from the oven), nor too cold (not straight from the fridge).

This recipe is for a sweet syllabub but it can also be made savoury (see above). You will notice that in this case, because of the absence of sugar, the syllabub thickens much more quickly.
Keeping:
1 or 2 minutes, no longer.
Nutritional information
Whole recipe
Energetic value
Proteins
Carbohydrates
Fats
310 Kcal or 1,298 Kj
7 gr
43 gr
13 gr
16 %
3 %
4 %
2 %
Per 100 g
Energetic value
Proteins
Carbohydrates
Fats
194 Kcal or 812 Kj
4 gr
27 gr
8 gr
10 %
2 %
3 %
1 %
% are calculated relative to a Recommended Dietary Intake or RDI of 2000 k-calories or 8400 k-joules by day for a woman (change to a man).
Some recipes that use this recipe

This recipe is made by briefly cooking an assortment of soft fruits (raspberries, blackcurrants, blackberries, blueberries, currants...) with a little sugar to glaze them. They are served in a small dish, covered with a delicious sabayon which can be lightly "burned" on surface.
236K
3.9
46 min.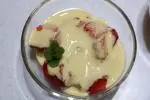 This is a very simple recipe, but the result is absolutely delicious (as long as it's strawberry season, of course): morsels of really ripe strawberries in a sabayon made with sweet white wine.
5,810
24 min.

Fresh grapefruit and / or pears, covered with a sabayon and a pinch of citrus crunch.
261K
4.7
55 min.
See all recipes that use it
Source
Home made, but I am deeply grateful to Hervé This for his explanations of how syllabub works and the essential role played by the pinch of flour.
More recipes?
This recipe uses (among others)
| | |
| --- | --- |
| | Caster sugar: You can get more informations, or check-out other recipes which use it, for example: Breton sablé biscuit dough, Grapefruit moelleux, Pears and caramelised walnut samosas , Profiteroles, Old style brioche, ... All |
| | Sweet white wine: You can check-out other recipes which use it, like for example: Strawberry brunoise in a dessert-wine sabayon, ... All |
| | Egg yolk: You can get more informations, or check-out other recipes which use it, for example: Dauphinoise potatoes with Serano ham, Ramekins of duchess potatoes, Real custard sauce (crème anglaise), Fresh mint ice-cream, Chocolate eclairs, ... All |
| | Flour: You can get more informations, or check-out other recipes which use it, for example: Biscuit de Savoie sponge cake, Oatmeal cake, Flaky brownie brioche, Caramelized apple and walnut cake, Fish in a sesame crust, ... All |
Other recipes you may also like
News list of cooking-ez.com
Sign up to receive the latest recipes (next batch due to be sent on 2021-08-01)
Note: We'll never share your email with anyone else.
Follow this recipe (as 9 people already do)
If you are interested in this recipe, you can "follow" it, by entering your email address here. You will then receive a notification immediately each time the recipe is modified or a new comment is added. Please note that you will need to confirm this following.
Note: We'll never share your email with anyone else.