Strawberry, kiwi and mascarpone verrines
A recipe from
cooking-ez.com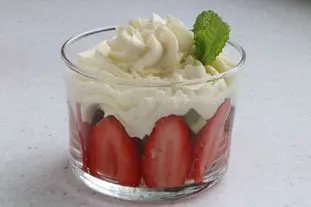 For 4 verrines, you will need:
Times:
Step by step recipe
1:

Prepare the mascarpone cream

Put into a food-mixer bowl: 100 g Mascarpone, 100 ml liquid cream, 30 g caster sugar, 10 g Vanilla sugar and 1 egg.
2: Beat until the cream is smoothly mixed and a similar consistency to chantilly cream.
Set aside in the fridge.
3:

Prepare the fruit

Peel 3 kiwis, then slice thinly and cut the slices into quarters.
Mix with 1 tablespoon caster sugar and 1 tablespoon lemon juice.
4: Prepare 200 g strawberries, cut in half lengthways and use to line around the outside of your verrines...
5: ...like this.
6:

Assemble the verrines

Put a dab of cream in the bottom of the verrine...
7: ...fill with pieces of kiwi.
8: Top with mascarpone cream.
9: Serve cool, but not too cold.
Remarks
If you like it, you can add a tablespoonful of rum or Amaretto to the cream.
---
October 20th 2020.