Tiramisu
A recipe from
cooking-ez.com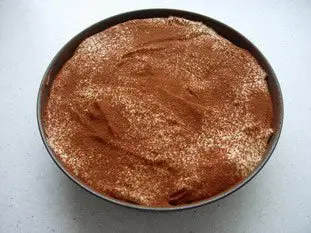 For 6 people, you will need:
Times:
Step by step recipe
1: Separate yolks from whites of 3 eggs, we use both.
2: Put egg yolks in a bowl with 90 g caster sugar.
3: Beat until mixture becomes pale .
4: Add 250 g Mascarpone a spoonful at a time, until you get a thick smooth cream.
5: Beat the 3 egg-whites until stiff, adding 2 tablespoons caster sugar halfway through.
6: Fold the egg-yolk, sugar and mascarpone mixture into the beaten egg-whites, to get a homogeneous and light mix.
7: In a dish mix 200 ml cold coffee and 2 tablespoons Marsala.
Prepare your serving dish.
8: Start assembling tiramisu:
A) Quickly dip a finger biscuit in coffee+marsala, and put in the dish. Continue like this to make the first layer of biscuits.
10: C) Sprinkle the whole surface with cocoa powder.
11: Repeat steps A) to C), until dish is comletely filled, finishing with a topping of cocoa powder.
Put in the fridge, covered with plastic film, for at least 2 hours.
12:

For individual tiramisus:


You can use finger biscuits and cut them to size, but it's easier if you make a full baking sheet of biscuits.
Using cutters, cut round biscuits the same size as your small dishes.
13: Dip a round biscuit in the coffee+Marsala mixture and put in the bottom of the dish.
14: Add a layer of cream.
15: Dust with cocoa and repeat layers until dish is full.
16: Finish with a topping of cocoa, and refrigerate for at least two hours.
Remarks
You can also try the
new tiramisu
, easier and (maybe) even more delicious.
If you don't like the taste of coffee, you can try an apple tiramisu where you replace coffee by
syrup
with half apple juice, and Marsala by manzanita, the Spanish green apple liquor.
---
September 29th 2020.